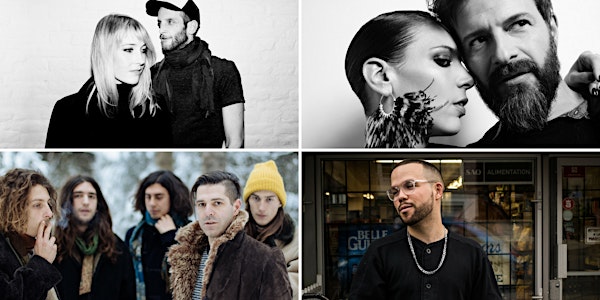 Mars en folie Concert 2018 瘋狂三月音樂會 2018
When and where
Location
MOM LiveHouse 7 Seas Shopping Centre B/F, 113-121 King's Road Hong Kong Hong Kong
Description
Get ready for an exhilarating concert to celebrate the French language! Discover the diversity of the francophone music with bands are coming from Canada, Switzerland, Belgium and France.
D-TRACK 加拿大 (Canada) - Hip Hop
Native of Outaouais, D-TRACK holds a twelve-year work curriculum in hip-hop. Over his career, he has been rewarded with the Télé-Québec award at the Festival de l'Outaouais emergent; has been ranked among the 5 best slammers in Quebec for three consecutive years, and has been participating in the Francouvertes (an annual Canadian music festival based in Montreal) while also being among the performing artist at the Festival en chanson de Petite-Vallée in 2013. Agile with words, D-TRACK is also known for the depth of his lyrics. Between slam and rap, armed with words and rhythms, D-TRACK guards his art with strong convictions. Identity, perseverance and tolerance are the central themes of his message, which is as much a heartfelt plea as a call to the rest of the world for an act of reason.
土生土長的烏塔韋人(魁北克省西部),D-Track主持一個長達十二年的hip-hop工作計劃。自開展了他的音樂生涯以來,他曾奪得Festival de l'Outaouais 的Télé-Québec獎;連續三年高踞魁北克Slammer榜的頭五位;亦曾擔任Francouvertes (紮根於蒙特利爾的年度加拿大音樂節)及2013年Festival en chanson de Petite-Vallée 的表演藝術家。
D-Track對文字的觸角敏銳,令他因富有深度的歌詞而聞名,介乎Slam 與Rap 之間,以文字及節奏把他的歌曲武裝起來,D-Track以強大信念守護他的音樂。身份認同、堅毅和包容為他作品的主要信息,給人們一個喚起他們行動的理由。
FERGESSEN (France) - Folk (法國) - 民謠搖滾
This folk-rock duo is a perfect mix of harmonized voices and guitars, a pop-rock filled with exigence, poetic, heartfelt lyrics and exquisite melodies written and composed hand in hand by David and Michaëla, in their quiet studio on the hillside. They first met in Paris 16 years ago. Short after recording their first album "Les accords tacites" in 2011, the pair chooses to leave Paris behind and take an independent path towards the "Far Est". Their last album "L'été" was released in January 2018 and mark a significant turning point for FERGESSEN.
這民謠搖滾二人組是和諧音韻與結他的完美結合。David 和 Michaëla在他們寧靜的山邊工作室,一字一句,以詩意、真摯的歌詞填滿了優美的搖滾旋律。16年前他們在巴黎相遇,2011年他們灌錄第一張唱片"Les accords tacites"後,二人決定離開巴黎並踏出他們的"Far Est" 旅程。他們最新的唱片"L'été" 於2018年1月發佈,為FERGESSEN的一個重大的轉捩點。
LE ROI ANGUS (Suisse) - Rock (瑞士) - 搖滾
LE ROI ANGUS band was formed in 2014 in an underground club in Geneva. During its first year, the newly-formed band locked themselves in a studio to record their first album, "Iles Essentiel". It was released in the autumn of 2015 on Cheptel Records. LE ROI ANGUS has since toured heavily in Switzerland and released their record in France. LE ROI ANGUS is inspired by a mysterious mix from Birgitte Fontaine to Melody Nelson, Jacco Gardner and Morrissey.
令人耳目一新,興奮狂熱,充滿野心,鬥志昂揚。日內瓦的獨立樂隊市場如今正生機勃勃,景像一片繁榮。 Le Roi Angus便是其中出色的一支。集迷幻搖滾及復古流行的特點於一身,它的音樂風格獨特,令人欲罷不能,出道初期便迅速引起了瑞士媒體的關注,演出邀約紛沓而至。
Le Roi Angus成立於三年前,當時樂隊主唱Martin Casim Admonk租下了日內瓦城郊一個廢棄的電話中心,把它改造成了地下俱樂部,命名La Centrale,並常常邀請一些年輕有天賦的音樂家一起來俱樂部進行創作和交流。由於有著相同的志向與目標,Martin與其中的四位一拍即合,Le Roi Angus便誕生了。
樂隊的發展順利,成立幾個月後,便在舊金山錄製並發行了第一張專輯Îles Essentiel,專輯在瑞士本國及法國引起了廣泛關注,為樂隊贏得了眾多在歐洲及美國登台演出的機會。目前Le Roi Angus正在為最新專輯Est-ce que Tu Vois le Tigre做準備,專輯將於2018年錄製。
RIVE 比利時 (Belgique) - Pop / Electro
Combining influences of the pioneering work of some leading names (Air, Apparat) and the latest findings of others (Tame Impala, Son Lux), the music of RIVE is a modern pop experience with French lyrics flowing peacefully through lush synths sounds, mineral voices and gentle nostalgia. « Dreamlike and poetic », « Luxuriant and enchanted pop», « Sensitive electro-pop » « An exciting voyage with multiple influences »… are the adjectives used to portray the project of Brussels based duet Juliette (guitar, piano, vocals) and Kevin (drums, machines). From the beginning, RIVE has often been referred to as « Revelation 2017 » by the press. RIVE was awarded several prizes, by juries of professionals, in various competitions in Belgium.
Their first EP "Vermillon", released March 2017, allowed the band to play several prestigious festivals in Belgium, Switzerland and Quebec. Endowed with a strong visual universe, RIVE released two outstanding videos "Vogue" and "Justice" which were highly remarked, selected and rewarded in various film festivals.
Rive現代流行音樂的靈感來源於很多音樂界的先驅者,比如法國浪漫電子樂隊Air,柏林電音爵士樂隊Apparat,澳大利亞搖滾樂隊tame impala和美國後現代搖滾、實驗流行電子樂隊Son Lux。 Rive是一支來自布魯塞爾的二人組合樂隊,由主唱兼鋼琴、吉他手Juliette和架子鼓手、樂手Kevin組成。 Rive的歌聲澄淨深遂,音樂如溪水般緩緩流淌,豐富的音效和閃現的懷舊畫面宛如一場穿越時空的旅行。
Rive 斬獲比利時眾多音樂比賽的專業獎項,並被媒體評選為2017年度最佳新人。
Rive於2017年初推出其首張迷你專輯《硃砂》(Vermillon ),受到比利時、瑞士和魁北克各知名音樂節的青睞並獲邀演出。
《浪潮》 (Vogue)、《公正》(Justice)——Rive的兩首成名單曲,具有強大的視覺效果,一經面世就引起熱烈反響。
Event presented by the Alliance Française de Hong Kong with the support of the Consulate General of Canada in Hong Kong, the Consulate General of France in Hong Kong and Macau, the Consulate General of Switzerland in Hong Kong, the Consulate General of Belgium in Hong Kong and Macau and the Délégation générale Wallonie-Bruxelles de Pékin