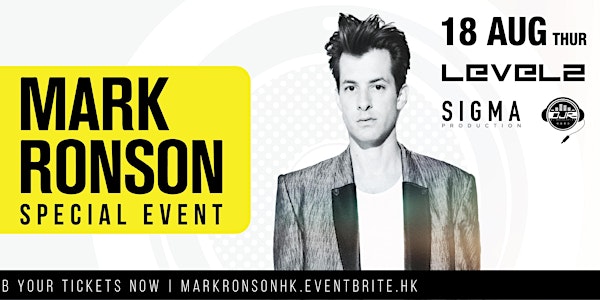 MARK RONSON 18 AUG | LEVELS
When and where
Location
Levels Hong Kong Island Hong Kong
Description
【UPTOWN FUNK】製作人、全英音樂獎及本年度葛萊美獎得主 - MARK RONSON 強勢突襲香港!8 月 18 日,LEVELS 見!立即購票:Markronsonhk.eventbrite.hk
與 Bruno Mars、Adele、Amy Winehouse 合作無間,來自英國的 MARK RONSON 橫掃全球多個音樂大獎,由「全英音樂獎 - 最佳男歌手」到「葛萊美獎 - 年度最佳製作」全部成為他的囊中之物,絕對係近年難得一見嘅「全能音樂人」!
在 2014 推出的單曲【UPTOWN FUNK】,Bruno Mars 的震撼唱功 加上 Mark Ronson 超卓混音技巧,【UPTOWN FUNK】於 YouTube 的點擊率衝破 10 億次,以無人能及之勢連奪多個國際音樂大獎,包括:全英音樂獎 - 年度單曲、葛萊美獎 - 年度最佳單曲 及 年度最佳流行組合演出等等。
想一暏傳說中 MARK RONSON 的超強實力,8 月 18 日,他將會突襲 LEVELS,絕對不容錯過今次特別演出!
【UPTOWN FUNK】Producer, Grammy Award Winner, and Brit Award Winner - MARK RONSON is coming to Hong Kong, a Special Event in LEVELS on August 18. Get your ticket now: markronsonhk.eventbrite.hk
MARK RONSON's remarkable collaboration with Bruno Mars, Adele and Amy Winehouse, the success won this talented English musician, DJ, singer, songwriter and record producer different international music awards, vary from Brit Award for Best British Male Solo Artist to Grammy Award for Record of the Year.
In 2014, Ronson achieved his first UK and US number one single with "Uptown Funk," which featured vocals from Bruno Mars. The song earned Ronson the 2015 Brit Award for British Single of the Year, and the 2016 Grammy Award for Record of the Year and Grammy Award for Best Pop Duo/Group Performance. Over 1 Billion views have been reached for 【UPTOWN FUNK】in YouTube.
See you all in LEVELS on August 18. Don't miss out such an amazing special performance of MARK RONSON!
__________________________________________________________

網上訂票 ONLNE TICKET RESERVATIONS
_________________________________________
優先票 Advance Ticket : HKD 300
現場門票 Door Ticket : HKD 500
立即上網訂票 Reserve your tickets online NOW* :

網上購票者請帶同列印好的電子票以便入場
*E-ticket holders please be reminded to bring your printed ticket(s)

*除非演出取消,否則不作退票。
*Ticket cannot be refund unless the whole performance is cancelled.

團體訂票及貴賓訂座 GROUP PURCHASE/ VIP SERVICES
_________________________________________
如欲查詢有關資訊請直接聯絡我們
Please contact us for more information
E : info@sigma-production.com
P : +852 2829 7322

年齡限制 AGE LIMIT
_________________________________________
此活動只准18歲或以上人士參與。參加者請帶同有效身分證以便核實入場。
This event has an age limit of 18 years old and above. Participants should bring valid I-D for identification.

著裝規定 DRESS CODE
_________________________________________
穿著短褲以及拖鞋/涼鞋均不準進場
Dress code is applied in this event. No shorts or flip flops are allowed to enter the event.

FOLLOW US FOR MORE EDM SENSATIONS
_________________________________________
Website: www.sigma-production.com
YouTube: www.youtube.com/sigmaproductionhk
Facebook: www.facebook.com/sigmaproductionhk
Facebook: www.facebook.com/djrevolutionhk
Instagram: www.instagram.com/djrevolutionhk
Eventbrite: www.sigma-production.eventbrite.hk/

[A DJ REVOLUTION IN HONG KONG - RISE of EDM ]
- SIGMA PRODUCTION