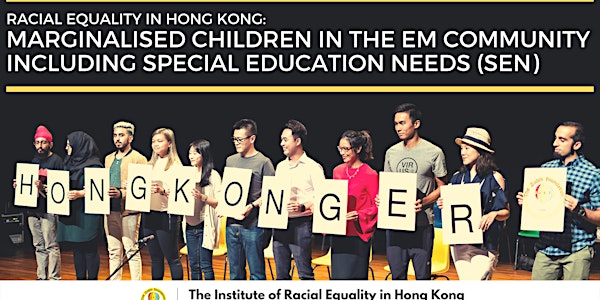 Marginalised children in the EM community including Special Education Needs
Marginalised Children in the EM Community Including Special Education Needs
About this event
Topics:
The Institute of Racial Equality is delighted to announce its 5th webinar: Marginalised Children in the EM Community Including Special Education NeedsIn this webinar you will learn about the situation of ethnic minority children, including issues faced by ethnic minorities parents of children with special education needs.
Join us to learn more about the fastest-growing ethnic minority children. This is a public event and free of charge. All attendees must register beforehand.
Special Thanks to our Hosting Partner: Allen & Overy
Target:
Senior corporate representatives in international and local companies that are committed to racial equality in Hong Kong and across the globe.
Details:
• Friday, 6 November 2020
• 1:00-2:00pm
• Webex Virtual Meeting
Speaker:
Shalini Mahtani, MBE, Founder & CEO of The Zubin Foundation
Shalini Mahtani is one of Hong Kong's most authoritative and respected voices on social issues, particularly diversity and inclusion and the plight of Hong Kong's ethnic minorities.
She is the founder and CEO of The Zubin Foundation, a think tank and charity that works to improve the lives of Hong Kong's marginalised ethnic minorities by providing opportunities and reducing suffering. The foundation is among the city's most accomplished and recognised on issues related to ethnic minorities. Their focus in the ethnic minority community is on women and girls in crisis, mental health of adolescents and adults, job and scholarship opportunities and children with special needs in public schools.
Shalini has been a pioneer in civil society working in areas previously untouched in Hong Kong. She is the founder of Community Business and one of the founding board members of The Women's Foundation. Shalini is also sits on a number of government advisory ad statutory bodies including the Commission on Children and is the Convenor for the Working Group for children with specific needs in Hong Kong.