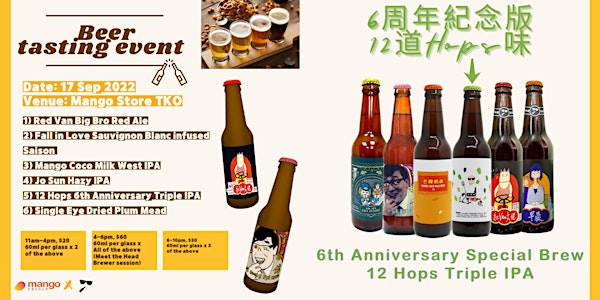 Mangostore X Hong Kong Whistle 吹啤啤 Tasting Event
Welcome to join Mango Store X Hong Kong Whistle Craft Beer tasting event and enjoy the amazing carft beer!
When and where
Location
Mango Store G/F - Shop 8 Papillons Square 21 Tong Chun Street, Tseung Kwan O, NT Hong Kong
Refund Policy
Contact the organizer to request a refund.
About this event
Craft beer lovers should pay attention, MangoStore has brought another tasting event. This time, the protagonist is the local craft beer brand ~ Hong Kong Whistle! Hong Kong Whistle is a boutique brewery established in 2016. All of their craft beers are carefully hand-brewed, and different special ingredients are added to brew a variety of special, rich taste craft beers. The design inspiration is rich in Hong Kong authentic elements and presented with hand-painted patterns, which deeply attracts the focus and attention of the public.
The event date will be held on 17th September at MangoStore Tseung Kwan O (Shop 8, G/F, Paillions Square, 21 Tong Chun Street, Tseung Kwan O). In this event, we have 6 craft beers in the menu:
- Red Van Big Bro Red Ale
- Fall in Love Sauvignon Blanc infused Saison
- Mango Coco Milk West IPA
- Jo Sun Hazy IPA
- 12 Hops 6th Anniversary Triple IPA
- Single Eye Dried Plum Mead
The tasting session will be divided into three periods:
The first session is the early bird session (11am-4pm), the fee is $20, and participants can choose 2 of the above to try.
The second period is the Main Event Happy Hour Session (4-6pm), with a fee of $60. Participants can taste all the above 6 craft beers. David Leung, the founder of Blow Beer, will also appear during this period to share the brewing experience with you. 
The last session is Night Session (6-10pm), with a fee of $30. Participants can choose 3 of the above to try. Such a rare opportunity, if you like to drink craft beer, you can't miss it!
If you are interested, please send 📋 your name, number of participants, contact number and email information 📧 to our Customer Services Department (Whatsapp: 6589 3993). Don't miss it , hurry up and sign up!!