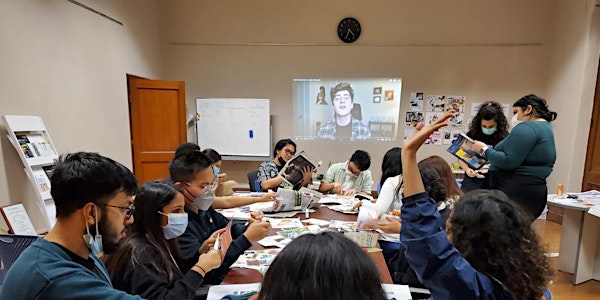 創造空間:少數族裔創作分享圈 Making Space: EM Creative Sharing Circle
香港國際攝影節2022「週末市集」公眾活動:由narrativesbyus主持的少數族裔創作分享圈 HKIPF 2022 Weekend Market Public Programme - Sharing hosted by narrativesbyus
When and where
Location
賽馬會創意藝術中心L7-19活動室 L7-19, Jockey Club Creative Arts Centre 白田街30號 30 Pak Tin Street 石硤尾 Shek Kip Mei, KOW Hong Kong
Refund Policy
Contact the organiser to request a refund.
About this event
narrativesbyus 將邀請少數族裔朋友前來,一同分享摸索各種創意和藝術空間的經驗。我們的身份在創作過程中擔任一個甚麼位置?來加入分享圈,搭上我們的宇宙飛船,一起看看我們如何創造藝術空間,也看看會否有更多的可能性存在。在活動的結尾,我們將以「open mic」的方式,展示各位的詩作、歌曲或任何近期的藝術作品。
narrativesbyus would like to invite members of fellow ethnic minority communities to talk about navigating creative and art spaces as ethnic minorities. Do our identities play a part in our creative process? Join us aboard our spaceship to see how we have been creating space and what more we can all do. We will end the sharing with an open mic opportunity to showcase your poems, songs or any recent artistic endeavours.
講者簡介 Speaker bio
由一群在香港本土教育制度下成長的少數族裔成立。「少數族裔」的身份於香港被過於簡化,在公眾想像中亦被隱含了其意義,narrativesbyus的目標,是向公眾呈現少數族裔的更多複雜面向。藉著年度小誌記錄社群活動,成員Suskihanna GURUNG、Shama MASHROOR、Ian Paolo VILLAREAL和Merina SUNUWAR,希望為本地少數族裔人士營造一個持續成長的創意空間。
narrativesbyus was formed by a group of ethnic minorities (EM) raised in Hong Kong's local education system. The collective aims to complicate the simplistic identity of "ethnic minority" and all the connotations in the public imagination. The team— Suskihanna GURUNG, Shama MASHROOR, Ian Paolo VILLAREAL, and Merina SUNUWAR— hopes to foster a creative and continuously evolving space for local EMs in Hong Kong through a yearly zine publication that archives community events.
語言 Language
英語為主(可按需要提供粵語傳譯)Primarily in English (Cantonese interpretation available upon request)
費用 Admission
留位費 Deposit: HKD 50
*參加者必須出席整個活動才可獲退還留位費,唯Eventbrite手續費需由參加者承擔。缺席者不獲退還。活動只供獲電郵確認者參加,門票轉讓將不獲受理。Refundable only upon attendance. The admin fee charged by Eventbrite shall be borne by participants. Absentees are not allowed for any refunds. Tickets are non-transferable.
防疫措施 Pandemic measures
1. 進入會場時需量度體溫,體溫高於37.5°C者不能進場
2. 場內必須配戴口罩
3. 盡量保持社交距離,4人限聚
4. 場內不可飲食
*此活動為「週末市集」公眾活動之一
1. Mandatory temperature check upon entry — participants with temperatures higher than 37.5°C will be denied admission.
2. All participants must wear a face mask at all times.
3. Maintain social distancing and avoid gatherings of more than four persons.
4. No eating or drinking inside the venue.
*This event is one of the Weekend Market public programmes.
支持攝影節 Support HKIPF
香港國際攝影節始於二〇一〇年,一直為多樣化的攝影表述及呈現提供展示平台,並連結海外與本地的影像創作者,對不同社會人文狀況展開討論與回應。多年來,我們致力於促進跨越背景與地域的對話與學習,以創意的實踐方式深化人與環境的連繫。
所有贊助、企業合作或私人捐贈,能讓我們繼續完成使命,有更多資源推廣攝影文化,亦對協會如何應對未來挑戰至關重要。您的捐款將對我們的恒常運營、項目發展和增加活動便利性帶來很大幫助,並將為香港的創意和創新活動開闢更多機會。
香港國際攝影節由香港攝影文化協會主辦。協會根據《稅務條例》第88條,為免稅慈善機構,捐款港幣 100 元或以上可申請免稅。我們收到的所有捐款,將在民政事務局藝術發展配對資助計劃下進行資助配對。
Since its launch in 2010, HKIPF has served as a platform for diverse photographic expressions, bringing together overseas and local image makers to discuss manifold issues and perspectives. Through a wide range of programmes over the years, the Festival facilitates participation and learning for people of all backgrounds, promoting creative practices as means to deepen our connection with the environments we live in, and people we live with.
Sponsorships, corporate collaborations and donations of all sizes are vital in helping us stay on course with our mission and weather challenges ahead. Your contribution will go towards our operation, programme development and strengthening events accessibilities, and will have a direct impact in opening up greater opportunities for creative and innovative endeavours in Hong Kong.
HKIPF is organised by the Hong Kong Photographic Culture Association, a tax-exempt charity under section 88 of the Inland Revenue Ordinance. All donations received will form parts of the funding support under the Art Development Matching Grants Scheme of the Home Affairs Bureau. Donations of HKD 100 or above are tax-deductible.