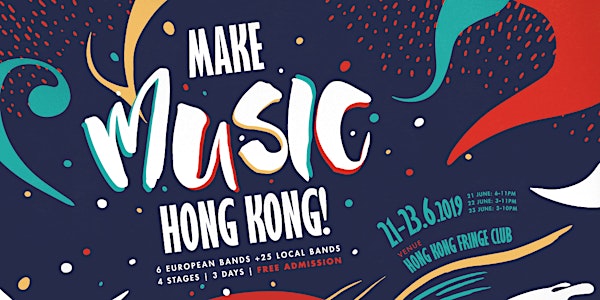 Make Music, Hong Kong! 覓音樂!
When and where
Location
Fringe Club 2 Lower Albert Road Hong Kong Island Hong Kong
Description
Alliance Française de Hong Kong and the Consulate General of France in Hong Kong and Macau are very proud to present the second edition of Make Music, Hong Kong! from 21-23 June 2019 at the Fringe Club! 3 Days, 6 European bands, 28 local bands, 4 performing areas, the festival is back for its second edition in the hot summertime to celebrate the passion for music with all of you by offering a wide range of music genre! All of it is free and open to the public!
More about lineup and details: https://www.afhongkong.org/en/cultural-events/mmhk/mmhk19/
有關活動詳情:https://www.afhongkong.org/cn/cultural-events/mmhk/mmhk19/
The acts you can't miss at Make Music?
6 European bands are among our most anticipated artists: the uprising and promising electronic RNB & soul pop French Duo HAUTE who perfectly combines swinging percussions and smooth vocals; the famous Italian jazz quartet Enzo Favata Glocal Report Quartet that jazz-holics must not miss; the Weissenborn guitar player and singer-songwriter from France Will Barber who made his name at the Voice; the Austrian classical duo Nota Bene who brings the audience to Vienna through masterpieces from Mozart to Schubert; the Swiss pop-jazz singer-songwriter Eliane Amherd whose unique sound is inspired by multicultural energy from the city of New York and also the Hungarian flautist Veronika Casjagi who makes us fall in love with the classical tunes.
Meanwhile Make Music will also feature some amazing local talents including acclaimed jazz master Ted Lo and the jazz guitar legend Eugene Pao; the quirky multi-talented singer-songwriter Subyub Lee and also bands that set the stage on fire such as David Boring and Prune Deer; moody and soulful bands such as Stranded Whale and Mukzi & the island and others whose music makes us go groovy such as Mouse Fx and Merry Lamb Lamb.
Don't forget the young and intriguing local bands that will reward your attention such as NYPD, Nichung, Sciences Noodles and Mothgown! And….we have more and more talented musicians performing non-stop during the 3 days. Come join us with friends!!
How to register:
Free admission RSVP. Walk-Ins Welcome.
Limited capacity on a first come, first served basis. Please register online in advance to secure your place.
* Admission arrangements are subject to the final decision of Alliance Française de Hong Kong
---
香港法國文化協會及法國駐港澳總領事館很榮幸呈獻第二屆「覓音樂!」音樂節,音樂節將於2019年6月21至23日假中環藝穗會舉行。3日、6隊歐洲樂隊、28隊本地樂隊、4個表演場地,第二屆音樂節將在這炎炎夏日,為你安排不同類型的音樂節目,免費與大家同慶對音樂的熱情!
你絕對不能錯過……
六隊最令人期待的歐洲樂隊——
完美融合聲音合成、結他、敲擊樂與人聲的法國人氣電子R&B及靈魂流行樂二人組合HAUTE;意大利著名爵士四重奏樂隊Enzo Favata Glocal Report Quartet;因《法國之聲》一炮成名的結他手兼歌手Will Barber;為你帶來地道的維也納大師級經典作品的奧地利古典音樂二人組合Nota Bene;受紐約滿滿活力影響的瑞士流行爵士唱作人Eliane Amherd;和讓人沉浸在古典音樂愛河的匈牙利長笛手Veronika Casjagi。
來到香港的「覓音樂!」音樂,當然也有大量出色的本地樂手,包括爵士樂大師羅尚正聯同爵士結他大師包以正的樂隊、極具才華的年輕唱作人李拾壹、熱情瘋狂的樂隊David Boring和話梅鹿、聲音懾人心靈的Stranded Whale和木子與島嶼樂隊,還有如阿鼠流動音效和Merry Lamb Lamb等樂隊讓你忘我舞動。
還有一班年輕出色的新晉本地樂隊定會讓你喜出望外、耳目一新,例如南洋派對、林聰、科學麵、蛾袍……還有更多更多,全城出色音樂人集中在這三天音樂節免費為你表演,仲唔約埋朋友一齊欣賞?
入場詳情:
免費入場,需預先網上登記,如有空間亦歡迎即時入場。
入場人數有限,先到先得,請預先網上登記。
*香港法國文化協會保留最終決定權。