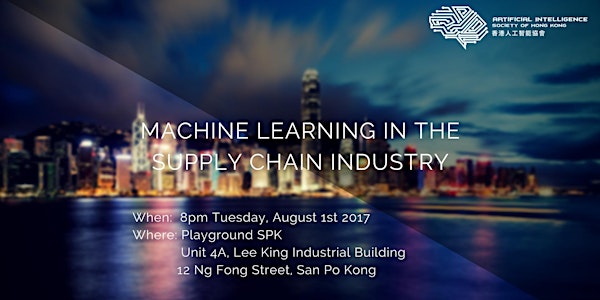 Machine learning in the supply chain industry
When and where
Location
Playground Studio Unit 4A, Lee King Industrial Building 12 Ng Fong Street San Po Kong Hong Kong
Description
How to use machine learning to solve real business problems in the supply chain industry?
Introduction to AI in the Supply Chain and Logistics industry
Main business cases:

Store clustering as a base for assortment planning - example of a textiles manufacturer selling its products across 300+ retail-stores and an e-commerce platform.

Data mining as a control entity for identifying irregularities and bottlenecks within a supply chain collaboration portal - example of a footwear manufacturer with a supply base of 80 manufacturing suppliers and 400+ raw material suppliers.

Logistic regression as an optimization technique for fresh food replenishment - example of a global service provider in the travel industry operating over 50 countries and 300+ airline customers.
Date: Tuesday 1st of August
Description of the speakers:
Florian Gamper
As a former management consultant, data analyst and passionate programmer specialized in solving supply chain management problems, Florian Gamper founded
Datacrag
- a startup incubated at the Hong Kong Science Park - with the vision to change the way companies utilize data for making decisions by creating a software that is based on artificial intelligence.
Jonathan Barone
Jonathan Barone is a former business intelligence consultant who transitioned from the banking and insurance industry into supply chain management and is now working at
Datacrag
as a data architect. He uses the latest open source machine learning technologies for solving real business issues.
Gerardo Salandra
CEO and founder of Rocketbots (
www.rocketbots.io
), a Hong Kong based company specialized in developing AI-powered Chatbot solutions. With previous experience in IBM, Google and several fast-growing startups, he has accumulated profound expertise in artificial intelligence, growth hacking, and digital marketing.