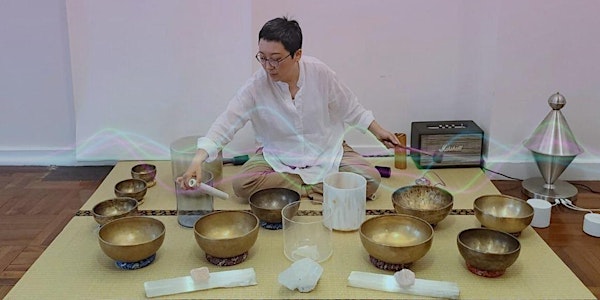 Lunch Time Guided Sound Bath Meditation 45-min | 45分鐘午間聲頻浴療
GUIDED SOUND BATH MEDITATION - Recharge & Harmonise with Sound and Conscious Intention under one hour
When and where
Location
iLiving HK 4/F, 31 Hollywood Road Central, Hong Kong, HKI Hong Kong
Refund Policy
Contact the organiser to request a refund.
About this event
Unique Singing Bowl Meditation PLUS experience with Anita Cheung
Deep relaxation and resourcing
Do you want to improve your sleep, your concentration, mood, and presence?
Do you know the benefits of meditation but find it hard to practise?
What if you can recharge and energise, achieve effect of a very deep meditation and also effect of a self hypnosis in releasing old patterns and installing more supportive beliefs all under one hour?
Every Session is Different
You will have a different experience every time.
You will be led through a guided meditation over the harmonics of sound vibrations, facilitating quick and marked synchronisation of brain waves and heart-brain coherence (which has been tested with our progressive equipment).
Date: 29 Sep 2022 (every Thursday)
Time: 12:30-13:15 HKT
Venue: 4/F, 31 Hollywood Road, Central, Hong Kong
Price: HK$330.00
Co-organiser: Ms. Anita Cheung
Click HERE to register.
https://www.ilivingacademy.com/Singing-Bowl-Meditation-PLUS-with-Anita
45分鐘午間聲頻浴療
想善用 Lunch Time ? 聲音所產生的聲波能促使自發冥想和全身放鬆,加速體內能量的流動,而敲響頌砵的震動能夠在物理層面上消除緊張,刺激血液循環。在聲頻浴的過程中,你只需舒適地躺在墊子上,閉上眼睛,感受沐浴在頌砵聲中。每次療程約長45分鐘。
日期:9月29日 (逢星期4)
時間:中午 12:30 至 13:15
語言:主要英文
地點:香港中環荷李活道31-33號4樓
費用:HK$330.00
協辦者:Ms. Anita Cheung
按此報名。
https://www.ilivingacademy.com/Singing-Bowl-Meditation-PLUS-with-Anita