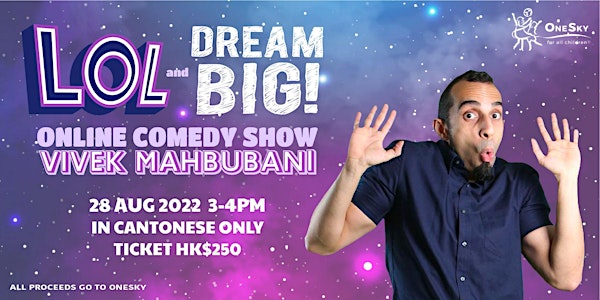 LOL and Dream Big with Vivek! (Partner registration)
Laugh Out Loud and Dream Big with Vivek Mahbubani | OneSky Online Comedy Show for a Cause | Sunday 28 August | 3pm – 4pm | Cantonese
About this event
Laugh Out Loud with the children of OneSky and Hong Kong's very own award-winning stand-up comedian! We are excited to announce Vivek Mahbubani, one of the world's funniest top 10 comedians, as host of OneSky Online Comedy Show for a Cause.
Vivek promises an hour of fun, laughter and light relief right in the comfort of your own home! Many of us could sure do with more laughs and this hour of comedy will give you laughs-a-plenty as you give back!
With so many of Hong Kong's vulnerable children and families who continue to struggle under extremely difficult circumstances, your participation will not only help them Laugh Out Loud, but you will also be a much-needed part of their supportive and caring community.
Whether you are 5 or 50 years old, Vivek will keep you laughing, and inspire everyone to dream big, face life's challenges, and more!
So that OneSky children and families can enjoy the show, this event will be delivered in Cantonese.
LIVE, and virtual via Zoom so you can LOL from the comfort of your own home!
We ask for a minimum donation of HK$250 for a ticket OR sponsor a OneSky family to join the show for HK$450 which includes a ticket for yourself.
100% of proceeds raised from this event will go towards building a better future for the disadvantaged children of Hong Kong.
Please contact marketing@onesky.org or call 2520 5266 if you prefer any other payment methods or have any questions about the event.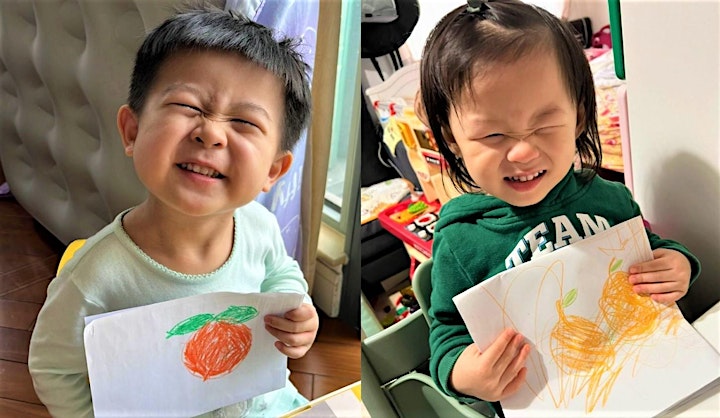 OneSky 好榮幸請到香港土生土長,全球知名嘅印裔搞笑巨星 Vivek Mahbubani (阿V),為我哋主持網上棟篤笑,包你同 OneSky 嘅小朋友輕輕鬆鬆喺屋企笑餐矇!
面對反覆既疫情,大家係唔係都擔心無得出去玩呢?唔緊要!就等我哋將笑聲帶到你地每一位嘅屋企!無論你係5歲定50歲,我地都包你歡歡樂樂笑足一粒鐘!你仲可以將呢份快樂同本地弱勢社群分享,透過贊助本地基層小朋友同屋企人,等大家可以一齊睇、一齊笑、一齊Dream Big!
棟篤笑將以廣東話、Zoom 形式進行。捐款HK$250或以上你就有一張飛,而捐款HK$450你有一張飛之餘仲可以贊助一個OneSky家庭一齊睇添!
所有收益全數撥捐深水埗李伯忠一片天國際啟育中心,為弱勢家庭提供親職教育支援,輔助照顧者以促進0-6歲的弱勢兒童全人發展。
嚟啦!同我哋一齊笑、一齊互相支持、關懷社區,用歡笑同愛心,將夢想發到無限大!
如想用其他付款方式或對活動有任何疑問,請電郵至 marketing@onesky.org 或致電2520 5266。