Description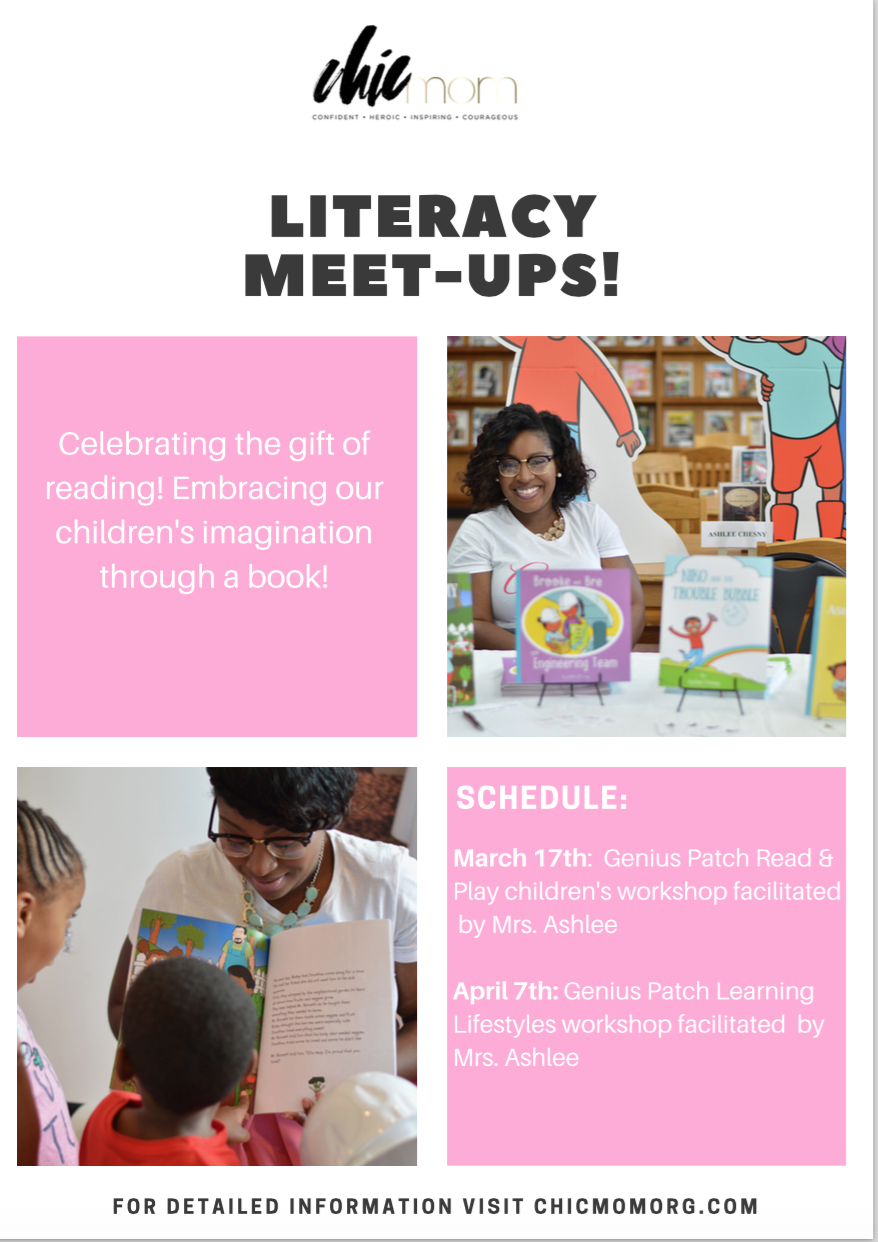 Come join CHICmoms for our literacy meet-ups.
We're celebrating literacy month!
March 17th: Genius Patch Read & Play Workshop Facilitated by Special guest, Mrs. Ashlee
April 7th: Genius Patch Learning Lifestyles Workshop for parents. Facilitated by Special guest, Mrs. Ashlee. This workshop will help parents understand fun and engaging ways to help their children learn.
About Ms. Ashlee
Author, Entrepreneur, Wife, Mom and Changemaker are just a few titles that Ashlee Chesny carries. Chesny is a 5x published children's author and award-winning literacy advocate on a mission to change the way that our nation approaches education, as well as child development. Aside from being an avid storyteller and creator of characters, Chesny is the founder of an education enrichment nonprofit in her hometown of Detroit, MI called Genius Patch. Through Genius Patch, Chesny has become known affectionately as "Mrs. Ashlee" to children throughout Metro Detroit and beyond. Genius Patch was founded on the principle of Proverbs 22:6, which states "Train up a child in the way he should go: and when he is old, he will not depart from it." Through Genius Patch's innovative programming the "he" is the focus instead of the "should go". Genius Patch was founded to support the individual child directly, the parents, educators and community members through it's programming. For her efforts in serving her community, Chesny has gained the support of Congresswoman Brenda Lawrence, Councilwoman Mary Sheffield and many others.
Programming created by Ashlee Chesny has been hosted at the Charles H. Wright Museum, Ann Arbor Hands on Museum, Detroit Public Schools, Oakland Livingston Human Services Agency, The Children's Center, a host of schools, daycare, churches and more.