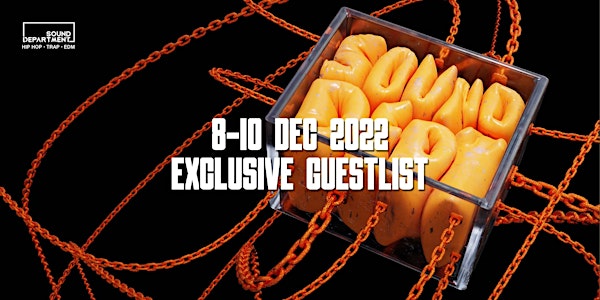 LIMITED GUESTLIST WITH DRINKS @ Sound Department (8-10 DEC)
Sound Department - Your Favourite Party Spot has returned, limited guestlist with 2 FREE DRINKS this weekend! (8-10 DEC)
When and where
Location
Sound Department Lower G/F, Malahon Centre, 8 -12 Stanley Street. Central Hong Kong, HKI Hong Kong
About this event
Sound Department 強勢回歸!
週末指定動作! Sound Department帶你體驗超震撼嘅Hip Hop/EDM派對!
誠邀尋求高質音樂嘅各位享受截然不同嘅聽覺及超凡視覺享受!
.
馬上登記12月8-10號免費入場及 2 杯贈飲 Guestlist!
.
日期及時間: 12月8-10號 (營業時間為晚上10時-淩晨6)
地址: Sound Department,中環士丹利街8-12號,萬利豐中心地庫
.
***所有入場人士必須為18歲以上,已接種三劑新冠疫苗及在進場時使用安心出行。***
***所有客人進場前,必須出示24 小時內的 2019冠狀病毒快速抗原測試陰性結果照片, 照片需顯示檢測結果,檢測日期時間及身份證明文件上的姓名。***
***「黃碼」及「紅碼」的人士不得進入處所 ***
Sound Department保留入場最終決定權.
.
Sound Department has returned!
Everything you need to know about nightlife is here at Sound Dept.
.
Embrace the Hip Hop & EDM madness and get ready for some epic night outs with us! (8-10 DEC)
Register for Free admission and 2 free drinks for 8-10 DEC!
.
Date: 8-10 DEC, 2022 (Doors open 10PM-6AM)
SOUND DEPT, Lower G/F, Malahon Centre, 8-12 Stanley Street, Central
.
*** ALL GUESTS ARE REQUIRED TO BE 18+, CHECK-IN WITH THE 3RD DOSE OF COVID-19 VACCINATION AND LEAVEHOMESAFE APP. ***
*** ALL CUSTOMERS ARE REQUIRED TO SHOW A PHOTOGRAPH OF RAT RESULT (TESTED WITHIN 24 HOURS) WITH YOUR ID/PASSPORT NAME, DAY & TIME OF TAKING THE TEST PRIOR ENTRY. ***
*** PERSONS UNDER THE CATEGORY OF "AMBER CODE" & "RED CODE" CANNOT ENTER THE PREMISES ***
Sound Department reserves the right of final decision for entry.