大家都可能知道, 安眠藥其實唔應該長期服用。在香港, 你身邊的朋友可能都有倚賴藥物才能睡眠的習慣。有的可能是因為情緒緊張或壓力過大; 但有些人更可能是因為荷爾蒙失調或睡眠窒息症等等的問題 令他們難以入睡。在這個工作坊內想, 我們想正視如何運用Lifestyle的轉變增加睡眠質素
About this event
工作忙碌的你有遇到以下問題嗎?
疲倦面孔
難以集中
情緒波動
鼻鼾聲超大
睡眠窒息症
等等
如果有, 這個工作坊應該適合你。 我們帶來了Dr. Yau 的醫學知識 和 Cavan 的Lifestyle medicine 資訊為大家 講解/ 解決有關於打鼻鼾和睡眠窒息症的問題。 我們的目標是幫助大家尋找自己最好的方法去改善睡眠質素。
在工作坊內, 我們更會提及睡眠衛生的重要和用什麼方法才能令自己瞓得: 更快更好更有效率。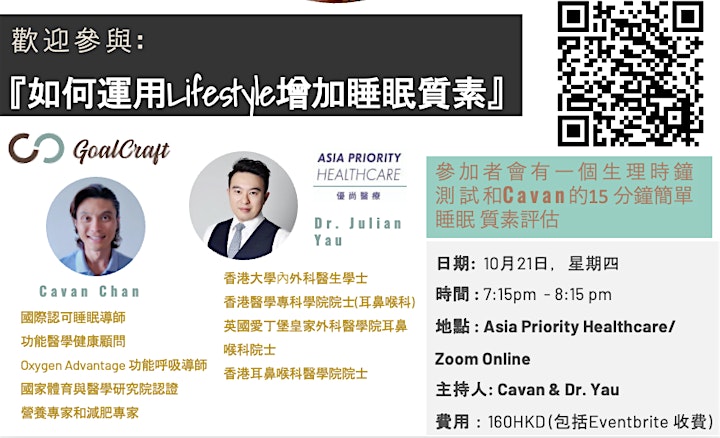 Organiser of Lifestyle改變可以幫你減少鼻鼾聲/睡眠窒息症?
GoalCraft is a professional sleep training firm for adults. We believe "effective & efficient" sleep is the elixir of life and everyone is capable of it. Through workshops and 1-on-1 coaching, we provide participants health advices, solutions and technologies to optimize their sleep/ rest strategies: Setting them apart from mediocrity.
Our works include the framework of neuroscience, nutrition, physiology, positivity psychology and latest health technologies in order to provide a wholistic approach to ones' sleep wellness. Our vision is to aid leaders to develop their personalized habits, which enable them to unleash their true leadership qualities.