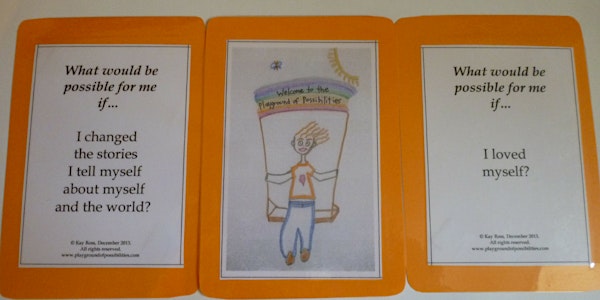 Life is a Playground of Possibilities
When and where
Location
Steam Studio 4/F Si Toi Commercial Building 62-63 Connaught Road West Sheung Wan Hong Kong
Description
Imagine. What would be possible for you if you let go of your old, limiting thoughts and beliefs and stories about yourself and the world? And what if you chose more useful ones?
I'm Kay Ross, a bodyworker/healer, improv performer and storyteller, and this workshop is for you if you're:

a heart-centred person who's on a quest to experience more love, joy, meaning and fulfillment in your life

a coach, healer or therapist who supports other people to heal and thrive, physically, mentally, emotionally and spiritually
an actor, improviser or drama teacher who'd like to explore some innovative ways of using improv games to build teamwork, communication, creativity...
Weaving together my interests and training in personal/spiritual development and healing, improvisation and storytelling, I've developed a concept I call "The Playground of Possibilities".
What do I mean by that? I mean that life is a playground of possibilities! In every moment, the Universe is offering us abundant choices, opportunities, adventures, challenges... And it's inviting us to transform and heal the unhelpful stories we believe about ourselves, decide what we want, trust that it's possible to have it, boldly step into new ways of being, approach life with an improvisational mindset, have fun, and be open to serendipity.

So in this practical workshop (no observers; everyone participates), you'll:
• examine and transform your limiting thoughts, beliefs and stories about yourself and the world,
• listen to the wisdom of your body,
• pay attention to the offers from the Universe,
• play some co-operative improvisation games, to experiment with new, more resourceful, more joyful ways of thinking and being,
• have the chance to use my prototype "The Playground of Possibilities" card deck, with 52 thought- and action-provoking questions for you to ask yourself

I've presented this workshop twice in Hong Kong; twice at the conference of the international Applied Improvisation Network in Montreal, Canada, in September 2015, and once in Darwin, Australia.
Here's what people have said about it:
"Collective magic, under your careful guidance, at work! What a lovely thing to participate in!"
"This was a great workshop! It really helped us see how shifts in our beliefs can shift our lives."
"What a beautiful, nurturing evening Kay. I am so pleased I decided to attend."
"Lovely night xx was very much FUN!!!"
"I don't know what happened last night but I feel like I have had some sort of shift. I feel so calm and contented today."
"Thanks for making the experience meaningful and fun. As a facilitator, you are fun, engaging and able to get your point across, without imposing your views. I enjoyed every part of the session and am now putting what I learned into practice."

Minimum age: 15
Maximum number of participants: 20
Language: English
Please wear loose, comfortable clothes and bring some water – you'll be moving around and playing some games.
Oh, and just to reassure you, no acting or improvisation experience is required – this is not a workshop about learning to perform improv or be a comedian.

Please register and pay in advance. If you'd prefer to pay via bank transfer (HK$350, with no booking fee), that's fine – please contact me for details: 9773 3751 or email me.

The venue, Steam Studio, is a dance and yoga studio that includes a lovely little cafe where you can buy snacks, tea, coffee and softdrinks. It's at 4/F, Si Toi Commercial Building, 62-63 Connaught Road West, Sheung Wan (tel: 2559 8298). That's half way between Sheung Wan and Sai Ying Pun MTR stations. The entrance to the building is actually around the corner in Queen Street, between Connaught Road West and the tramline on Des Voeux Road West, near the Hotel Ibis.
P.S. I'm currently running a crowdFUNding campaign on the Next Chapter site to raise funds to get my "The Playground of Possibilities" card deck printed. It runs until November 23, and 5% of the proceeds will go to KELY Support Group, an organisation here in Hong Kong that runs peer support, mentorship and leadership development programs for people aged 14-24. So if you'd like to pre-order a deck of the cards – or several decks (due for delivery early next year), please support the campaign.