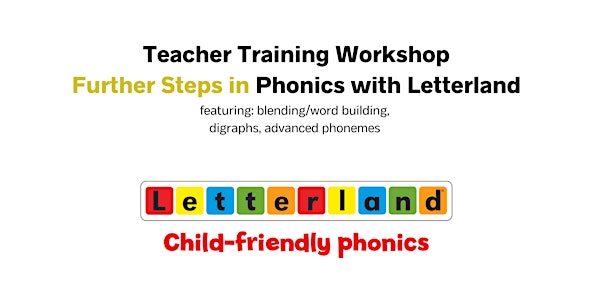 Multiple dates
Letterland Teacher Training: Further Steps. 29 & 30 Apr, 1 May 2023, PM
Further Steps in Phonics with Letterland featuring Early Years initial phonemes a-z, simple blending/word building
By ETC Educational Technology Connection| Letterland
Date and time
Sat, 29 Apr 2023 15:00 - Mon, 1 May 2023 19:00 HKT
Location
Letterland Showroom Rm 811, Eastern Harbour Centre 28 Hoi Chak Street Quarry Bay, HKI Hong Kong Hong Kong
About this event
Further Steps with Letterland - Teacher Training Workshop, 3:00 - 7:00 pm
3 repeating sessions on 29 April, 30 Apr and 1 May. Please join 1 session only..
Featuring: blending/word building, digraphs, advanced phonemes
All Attendees MUST have previous knowledge of the Letterland System, from the AM session or previous trainings
Developing from Early Years - see how Letterland develops (word endings, blends, digraphs, vowels, spelling anomalies)
Examine further blending & consonant digraphs through Letterland stories
Examine short and long vowel sounds
Teach the Silent Magic 'e' the Letterland way
Examine some vowel digraphs
Examine some common spelling problems 'r'& 'w' controlled vowels, and other common spelling anomalies
Sound Clinic (2): identify difficulties either with pronunciation or with specific teaching issues.
Determine strategies for dealing with the many difficulties experienced in the development of phonemic awareness
Approach
Designed to encourage a love of language in a fun, multi sensory, cross curriculum way.
Include a variety of practical suggestions of things to make and do with your children in the classroom and at home. Suitable for children of all ages and abilities.
Provide ideas for games to play to stimulate your children's curiosity about the English Language
Designed to encourage speaking, listening and thinking skills
View/download PDF version of the following programme details , AM and PM : shorturl.at/buGK1
About the speaker:
Ms Lesley White, Letterland Trainer and Consultant, UK
Ms Lesley White is a qualified trainer with many years of experience in the Letterland System. She has been a member of the In-Service Training Team in the UK since 1992. Working closely with Lyn Wendon, the originator of Letterland, she has shared her knowledge with numerous educators and parents in the UK, Europe, Middle East, Taiwan, Hong Kong, Singapore and the region. After having taught pre-school children, she was employed originally by Letterland both as a trainer of teachers, helpers and parents in the West Midlands area of the UK, and with responsibility for selling the complete range of Letterland products to schools and parents at nursery and primary school levels including after sales support and advice.
Frequently asked questions
Do I need to attend all the Further Steps in Phonics Teacher Trainings on 29 Apr, 30 Apr, 1 May?
I am a parent. Is the course suitable for me?
Can I pay on the spot when I attend the session?
How to order Letterland products?