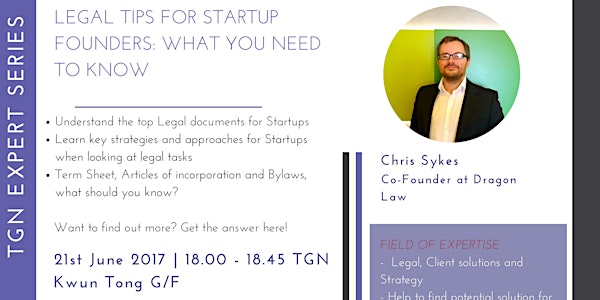 LEGAL ASPECT & STARTUPS: WHAT YOU NEED TO KNOW
When and where
Location
TGN Workhub - Kwun Tong 118 Wai Yip Street Kowloon Hong Kong
Description
The content:
• Understand the top Legal documents for Startups
• Learn key strategies and approaches for Startups when looking at legal tasks
• Term Sheet, Articles of incorporation and Bylaws, what should you know?

Want to find out more? Get the answer here!
THE SPEAKER
Chris is an English solicitor and co-founder of Dragon Law. Originally from Manchester, Chris practised criminal defence, specialising in 'White Collar' and regulatory offences, and in particular Proceeds of Crime litigation. He moved to Spain in 2012 to work as a consultant, teaching legal skills and Common Law subjects in major law firms and universities around Spain.In 2014 Chris moved to Hong Kong to take up his role a Head of Legal at Dragon Law. Dragon Law allows businesses to build and store legal documents, and lets law firms serve startup businesses efficiently and conveniently. Dragon Law is now available in Hong Kong, Singapore, Australia and New Zealand.Chris is a strong advocate for LegalTech (recently setting up HK Legal Hackers) and changes in legal education that will help lawyers in the future.