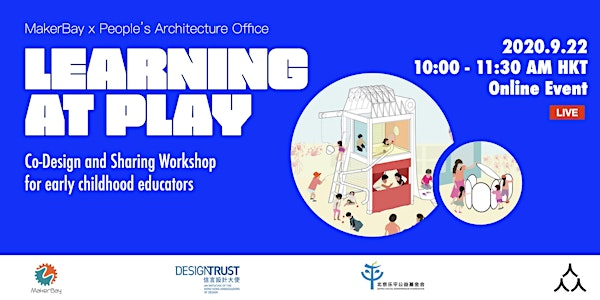 Learning at Play : A Co-Design and Sharing Workshop
Co-design prototype for early learning classrooms to stimulate STEAM activities and learning through play.
About this event
Ideal for: Early childhood educators and social workers
Initiated by People's Architecture Office (PAO) 'Learning at Play' examines the influence design and architecture can have on learning outcomes, by means of researching, developing, testing and analysing innovative learning tools. Through a series of experimental workshops taking place within schools, festivals and museums that focuses on early learners, the project develops new spatial designs and learning tools that aim to catalyse design thinking, intending to impact learners and the wider field of design and education.

In this special Co-Design Sharing Session and Workshop PAO will discuss their latest experimental design the "Plugin Learning Loft" which is a design prototype for early learning classrooms to stimulate STEAM activities and learning through play. Through sharing design concepts and video footage of experimental workshops with the Plugin Learning Loft, it is the goal to engage in a co-design workshop seeking to critically analyse the design and collectively find uses and improvements for such learning tools in the classroom. 
In the workshop and sharing session we will delve into the following questions:
What is the role of space in education?
How can we improve learning environments?
How can spatial arrangements and spatial tools influence learning?
How can STEAM activities be better incorporated into the early childhood classroom?
What does early childhood STEAM education look like in the US and mainland China?
Rundown:
The following presentations will be interspersed with a variety of brainstorms and sharing activities facilitated and moderated by Maria Li (MakerBay) and Anouchka van Driel (PAO):


Short Presentation 1: 
James Shen, Principal People's Architecture Office and Anouchka van Driel, Innovation Lead at People's Architecture Office 

Short Presentation 2: 
Junlei LI, Saul Zaentz senior lecturer in early childhood education, Harvard Graduate School of Education

Short Presentation 3: 
Caitlin Malloy, Executive Director Newtowne School Boston

Short Presentation 4: 
Yao TANG, Deputy Director of Early Childhood Education Leping Social Entrepreneur Foundation
About James Shen
Architect and product designer James Shen is Founding Partner at People's Architecture Office, an award-winning practice with offices in Beijing and Boston, known for engaging in urban issues through designs that straddle architecture and product design. James received his Master of Architecture from MIT and his Bachelor in Product Design from Cal State Long Beach. He has taught at the Harvard Graduate School of Design and MIT's Department of Architecture. James is Senior Research Fellow at the Harvard Joint Center for Housing Studies and was previously Innovation Fellow at MIT's Future City Innovation Connector.
About Caitlin Malloy
Caitlin Malloy serves as the Executive Director of the Newtowne School, a Reggio Emilia-inspired cooperative preschool in Cambridge, Massachusetts and a lecturer at the University of Massachusetts Boston and Lesley University. Caitlin holds a B.A. in Linguistics and Cognitive Science, an M.A. in Child Development, and a Ph.D. in Education and has had a wide range of professional experiences including a preschool teacher, an educational researcher, and teacher educator. Her research explores social development, peer relationships, and the effects of classroom peers on teaching and learning and has been published in the peer-reviewed journals Early Education & Development, Psychology in the Schools, and Child Development.
About Leping Social Entrepreneur Foundation Early Childhood STEAM Project
Leping Foundation launched the Early Childhood STEAM Project in 2018, aiming to provide quality education for 3- to 6-year-old children in rural China. Equipping kindergartens with developmentally appropriate STEAM material, providing long-term and quality professional development for teachers, and working with local education administrations to build early childhood STEAM cohorts are the three key strategies of the Project. Leping Foundation has thus far implemented the project in Yunnan, Guizhou, and Hebei provinces in Mainland China.
About Junlei LI
Junlei LI is the Saul Zaentz senior lecturer in early childhood education at the Harvard Graduate School of Education. His research and practice focuses on understanding and supporting the work of helpers–those who serve children and families on the frontlines of education and social services. Li studied and learned from a wide range of developmental settings with low resources but high-quality practices, including orphanages, childcare, classrooms, and community youth programs. He developed the "Simple Interactions" approach to help identify what ordinary people do extraordinarily well with children in everyday moments and made that the basis for promoting positive system change.
This event was kindly made possible by Design Trust through its grant for the Learning at Play project.
----
* MakerBay reserves the right to take photographs or videos during the operation of any workshop or part thereof and to use the resulting photography in whole or in part for promotional purposes, including, but not limited to: advertising and publicity both in print and electronic media. By signing a workshop/class with MakerBay, participants agree to allow their images to be used in such promotions; participants who prefer that their image not be used are asked to identify themselves to the MakerBay at the commencement of the workshop.