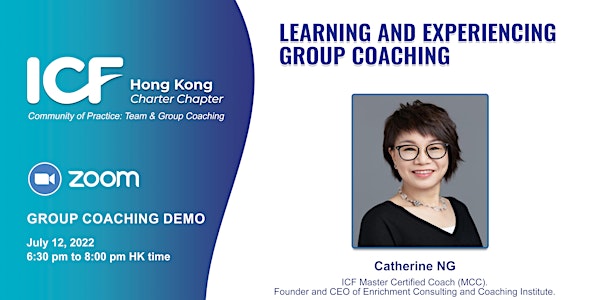 Learning and Experiencing Group Coaching
We are delighted to welcome Dr. Catherine Ng, ICF MCC to experience an online group coaching taster session
About this event
We are delighted to welcome Dr. Catherine Ng, ICF MCC to experience an online group coaching taster session on July 12th.
Focus of the session:
-       Clarify the difference between Group Coaching and Team Coaching
-       Understand why Group Coaching is not just one to one coaching with more people through experiencing it
-       Learn what you need to do become a good group coach – SOS (self-others-situation) awareness
Agenda:
1.     Definition of Group Coaching & difference with Team Coaching
2.     Challenges in coaching groups rather than individual clients 
3.     Interactive taster Group Coaching Experience
Please note that, due to the nature of the session, the audience will be limited to 20 people, on a first come, first served basis. 
ABOUT Dr. CATHERINE NG
Former president of the ICF Beijing Chapter, Dr. Catherine Ng is originally from Hong Kong and been coaching in China for more than 25 years.
Dr. Ng is the founder and CEO of Enrichment Consulting & Coaching Institute.