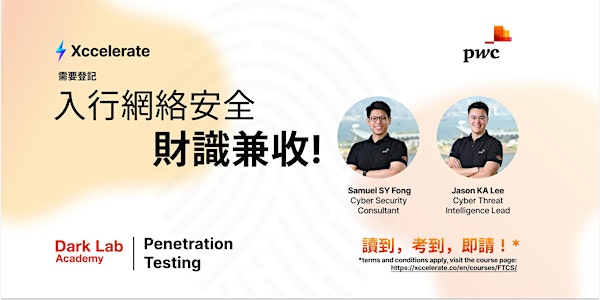 入行網絡安全 財識兼收! Learn to Hack and Hack to Earn!
PwC HK與 Xccelerate 攜手培育專才,解決網絡人才短缺問題。
When and where
Location
Xccelerate Campus 3/F, Citicorp Centre 18 Whitfield Rd, Tin Hau, Fortress Hill Hong Kong, HKI Hong Kong
About this event
IMPORTANT: For those who can't join in-person 1. proceed with registration 2. email georgina.l@xccelerate.co to request an online event link.
重要提示:對於無法親自參加嘅人,首先註冊,其次發送電子郵件畀georgina.l@xccelerate.co問取線上看連結。
Speakers 演講嘉賓: Samuel SY Fong from PwC HK
The era of cloud computing, Internet of Things (IoT), automation and online collaboration tools has accelerated digital and human connectivity. These new hybrid human-digital ecosystems are often fragile, with the cyber threat landscape becoming increasingly sophisticated as malicious attackers take advantage for profitability, sabotage, and espionage. As organisations look to improve their cyber-resilience, they are faced with another problem - a talent shortage. This hurdle has jeopardised the ability of organisations to act swiftly and decisively to safeguard against dynamic cyber threats.
雲端運算、物聯網、自動化和線上協作工具的時代加速了數碼化連接和人類之間的聯繫。這類混合了人類和數碼科技的新生態系統往往較爲脆弱;隨著惡意攻擊者利用網絡獲利,以及進行破壞和間諜活動,網絡威脅變得日趨複雜。企業在尋求提高自身的網絡應變能力之時,亦面臨著另一難題——人才短缺。面對瞬息萬變的網絡威脅,這一大障礙降低企業採取迅速果斷抵禦行動的能力。
PwC Hong Kong ("PwC") recognises the need to act swiftly to reduce the cyber talent shortage, and has partnered with Xccelerate Global Hong Kong Limited ("Xccelerate") to prepare bespoke cyber-specific learning content that will help upskill and reskill talents. The aspiration is to serve up cyber content that is inclusive of all demographics and technical backgrounds. In this way, organisations and the wider society can have sustainable access to a talent pipeline that will aid them in protecting data and systems, mitigate cyber risks, and improve resilience against cyber threats.
有鑑於此,羅兵咸永道香港認爲企業必須迅速採取行動,應對網絡人才短缺,並聯同Xccelerate Global Hong Kong Limited,提供網絡特定學習內容,以幫助人才技術提升和技能重塑。透過是次合作,我們致力提供及兼容所有人口族群和技術背景的網絡內容,讓企業和社會各界可持續地獲得人才管道,以協助他們保護數據和系統,降低網絡風險,從而提升抵禦網絡威脅的能力。
We'll talk about:
The supply and demand on cyber security talent
Reasons for talent shortage
Cyber School and Bug Bounty program to address the talent shortage
Student's journey at Cyber School
我們將討論:
網路安全人才的供求關係
人才短缺的原因
以Cyber School and Bug Bounty計劃解決人才短缺問題
學生在網路學校的旅程
Who is this session for?誰適合此活動
The session is ideal for anyone seeking to get a taste of, get an overview idea, starting to pursue a career in cyber security specialty.
該課程非常適合任何尋求體驗,獲得概述想法,開始從事網絡安全專業職業嘅人。
Event details:
📅 1月5日星期四
⏰ 19:00 - 20:00 (HKT)
💬 Cantonese 廣東話
Upcoming cyber security course