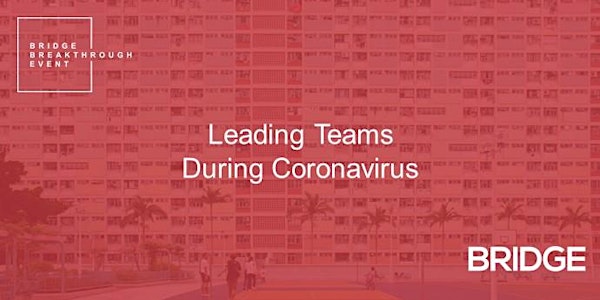 Leading Teams During Coronavirus (Covid-19)
Anxiety and fear seem to be leading in this current outbreak. It's time to take back control.
About this event
Are you wondering how managers and leaders keep their teams resilient and resourceful in these challenging times? How do you manage virtual working and create connection in this disconnected world? How can you flip this current crisis into an opportunity?
At BRIDGE, we have been working flexibly for years around the globe and are learning how to thrive as a team in this new world of complexity and market chaos.
Join us for this webinar hosted by Alix Farquhar where she will share our best practice and tools you can use with your teams. We will also be joined by our Futurist in Residence, Benjamin J Butler, who will comment on the coronavirus and other wildcard events this year.
Spaces are limited so register today and you'll be sent a link to the ZOOM webinar in due course!
BRIDGE is a global L&D consultancy . We believe in helping individuals and organisations to evolve and to do well and do good. To learn more about what we do please see our website. https://bridge-partnership.com/