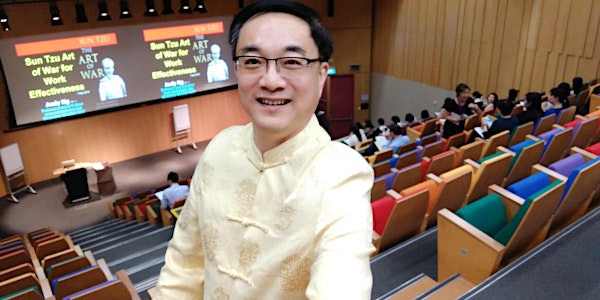 LEADERSHIP WITH SUN TZU ART OF WAR & 36 STRATAGEMS
Watch the short video at here Sun Tzu (or Sūn Zǐ in pinyin) was a 500 BC Chinese general, military strategist, and author of The Art of War,
By Asia Coaching Training
Date and time
Mon, 21 Aug 2023 09:00 - 17:00 +08
Location
Hotel Grand Pacific L2 101 Victoria St Victoria Room (L2) Singapore, Singapore 188018 Singapore
Refund Policy
Contact the organiser to request a refund.
About this event
Watch the short video at here
Sun Tzu (or Sūn Zǐ in pinyin) was a 500 BC Chinese general, military strategist, and author of The Art of War, an immensely influential ancient Chinese book on military strategy. Many great leaders like Margaret Thatcher and Ronald Reagan study his work and became legendary leaders. Many corporate leaders paid thousands of dollars to attend courses to learn Sun Zi secrets. 
We at Asia Trainers believe that you too can learn master his secrets with just two hundred dollars. This is because we take the essence and compile them into a 4-hour course that will leave you with just enough materials to lead your team to greater heights. Since October 2010, we have trained over 1,137 leaders coming from countries including Hong Kong, Japan, Myanmar and even China. 
The most valuable lesson out of his 13 chapter of 5,000 words must be found in the 3rd chapter: Win Without Fighting. 
 As translated from The Art of War: Generally, in war, the best thing is to take the enemy state whole and intact; to ruin it is inferior to this. To capture the entire army is better than to destroy it. Hence, to win one hundred victories in one hundred battles is not the acme of skill.
To subdue the enemy without fighting is supreme excellence. In short, win without fighting is the best. 
 How does it apply to your leadership? 
The enemy here refers to not your enemy but your team that you are leading. 

Take the enemy state whole and intact means you must lead your team wholly with not just their bodies, but also their minds, hearts and spirits. 

Never destroy the bodies, minds, hearts and spirits of your team. So you cannot over-work them for you will be destroying their bodies and minds. You also cannot break their hearts by not delivering on your promises and make them give up on you. Finally, you may destroy their spirits when you unknowingly make them a fool in front of others.

To win without fighting in leadership is to lead without your team knowing that you are leading them. A leader is at his best when people barely know he exists, when the work is done, the team will say: we did it ourselves. This is because the leader has empowered the team so much and they have become so competent that they are mini leaders themselves, thus the leader is leading without actually leading them. This must be the highest form of leadership. Lead without Leading. 

If you too want to be a great leader, learn from the master.
POWER-PACKED CONTENTS INCLUDE:
Sun Tzu Art of War demystified and simplified 

Applying the Five Elements of Sun Zi (Mission, Climate, Ground, Leadership, and  Methods) to your leadership now

How to Know Yourself Know Others per Sun Tzu

36 Stratagems as applied in Leadership

Real Life Cases from Winston Churchill and Nelson Mandela

Winning over people using Sun Tzu Straight and Odd Stratagems

The 6 Strategies of Art of War

The Ultimate in Art of War: Take the entire Nation (body, mind, heart & spirit)
About the organiser
Asia Coaching Training (Singapore)                        www.asiatrainers.com
Founded in 2001, Asia Coaching Training was, from 2001 to 2007, the Singapore Licensee of the world's largest business coaching firm, ActionCOACH, a company with offices in 26 countries since 1993. (ActionCOACH was previously known as Action International).
Asia Coaching Training is a team of dedicated professionals committed to building better business for companies in the areas of business training, coaching and consulting. 
Our Vision: "Building People to Building Business".
Introducing Your Business Coach Andy Ng
Business Coach, Consultant and Trainer, Andy is the founder of

A

sia

C

oaching

T

raining.  Andy Ng combines 31 years of corporate, entrepreneurial business, training and consulting experience, all with a great passion to help people to be more competitive and successful.

Andy Ng graduates from National University of Singapore in 1988 with a 2nd class honours degree in Accountancy US (1988) and also has a MBA from the Heriot-Watt University of UK.

From 1997 to 2001, Andy was the

Director of Finance, HR and Admin

of the world's 5th largest computer networking equipment supplier - Allied Telesyn International.  The Group enjoys US$420 million sales employing 1,300 staff worldwide.  Andy's other experiences include banking at Chase Manhattan Bank, consultancy at KPMG and sales at Vickers Ballas Holdings Limited. 

 As a trainer, trains companies on 3 major topics: sales, management and executive and high performance employee skills.  Andy has trained SingTel and Sing Power for their multiple-run training Finance for Executives programs.  On top of that, he also did countless training assignments for companies including Beckon Dickinson, Hwa Chong Institution, Coldwell Banker, Thomson Learning, SPH, DTZ Debenham, NTUC & Manulife Insurance Singapore.

Since 1996, total people trained by Andy numbered 81,431 in 14 countries.

The public workshops conducted by Andy are highly popular, and some of them were featured on MediaCorp Radio.  Andy is also a Certified Trainer with the American Management Association (AMA) and Advanced Training (UK). He is also ACTA-certified by MOM's Workforce Development Agency (WDA).
In the community, Andy is District Chairman for Leadership at District 308A1 Lions Clubs International and Committee Member of Association of Professional Trainers Singapore.