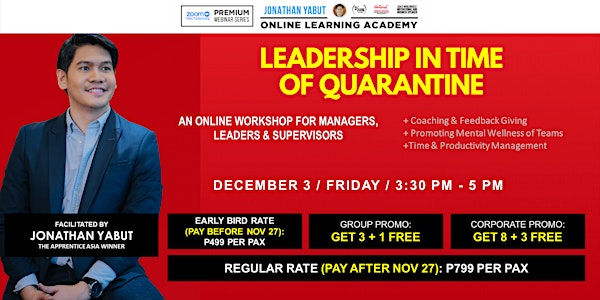 Leadership in Time of Quarantine with Jonathan Yabut
An Online Workshop for Managers, Leaders, and Supervisors
About this event
The pandemic has changed how we engage and motivate people at work. Are you evolving and updating your leadership styles to adjust to the changing needs? Join Jonathan Yabut as he shares best practices and trends in leadership in light of today's WFH and hybrid work arrangements.
Check the complete module outline here: 🔗 bit.ly/JYCVLeadRemoteOutline
All participants will get the following:
💎 1.5 hours of coaching & case simulations with Jonathan Yabut
💎 Digital Certificate upon completion of online course
💎 Free 1 digital copy of Jon's best-selling book: "From Grit To Great"
INVESTMENTS:
⭐ Early Bird Rate ( pay by Nov 27) : PHP 499 / USD 10 / MYR 40
⭐ Regular Rate ( pay after Nov 27 ) : PHP 799 / USD 15 / MYR 70
⭐ Group Promo: Get 3 + 1 Free pax
⭐ Corporate Promo: Get 8 + 3 Free pax
Hurry! Early Bird Rate is up to Nov 27, 2021 only!
Organiser of Leadership in Time of Quarantine with Jonathan Yabut
JYCV is a leading marketing and talent consultancy group based in Southeast Asia founded in 2014 by Jonathan Yabut, Winner of The Apprentice Asia
It operates in 3 key cities: Kuala Lumpur, Singapore and Manila with 24 full-time staff, and 18 part-time brand consultants.
JYCV has proudly serviced over 100 marketing clients and campaigns in 8 countries in just 4 years. It specializes in two consultancy tracks, with specialization on millennial audiences:
A. Marketing / Branding / Digital Content
B. Talent Management / Soft Skills Training / Human Resources
Website: jonathanyabut.com
E-Mail:
jonathanyabut@jycvasia.com
Registration@jycvasia.com