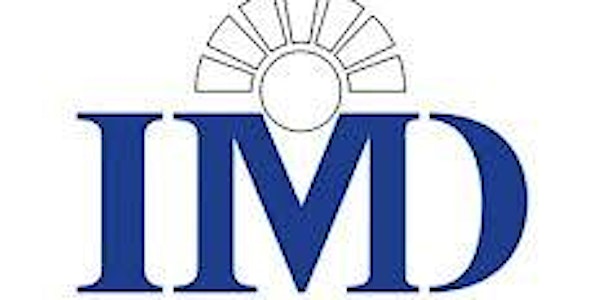 Leadership in a Digital World
By IMD Alumni Club of Hong Kong
Date and time
Thu, 17 Nov 2016 18:30 - 21:30 HKT
Location
Foreign Correspondents' Club, FCC Verandah , Foreign Correspondents' Club, 2 Lower Albert Road, Central Hong Kong Hong Kong
Refund Policy
Contact the organiser to request a refund.
Description
Dear IMD Alumni,
IMD Alumni Club in Hong Kong would like to invite you to join us for a speaker session presented by Dr. Amit S. Mukherjee.
Leadership in a Digital World
"Going digital" may make our companies successful, but history suggests we must first change how we lead. For over two centuries, "long arc of impact" technologies have transformed the very meaning of work, organizational structures, and leadership, rewarding those who changed and punishing those who didn't.
One such technology, broadly adopted in the 1980s, flattened corporate hierarchies, and made teams the building blocks of modern organizations. Over 45% of the 1975 Fortune 500 companies did not make it to the 1990 list. Executives who thrived in this changed environment learned new ways of leading that their predecessors couldn't have imagined.
Digital technologies are once again transforming the workplace, almost insidiously introducing new organizational structures that demand a different approach to leadership. Executives now have to lead gender-, national- and culturally-diverse people on mission-critical tasks from relatively early stages of their careers. And they have far less time to make their mark than their predecessors did. The established norms of leadership are changing before our eyes, and arguably, executives being considered for leadership roles have profiles that are very different from those of their predecessors.
About the speaker
Professor Mukherjee's research and teaching interests lie at the intersection of leadership, technology, strategy, and organizational effectiveness. He has taught in IMD's open programs (Orchestrating Winning Performance, Transition to Business Leadership and The Next Generation) and several company-specific programs at both the Lausanne and Singapore campuses.
His 2009 book, "The Spider's Strategy", explored the key fact that though today's global companies compete as members of networks, mWarkets continue to evaluate them individually. His next book will address the leadership needs in such companies at mid-tier levels. Numerous articles by him, or about his research, have appeared in academic (Management Science) and practitioner-oriented journals (e.g., Leader to Leader, Chief Learning Officer, and Forbes). A recent article he wrote was published by the news media in seventeen countries.
Professor Mukherjee has been an academic, line executive, and consultant. Most recently he taught at Hult, and earlier, at Babson College, and INSEAD. As Managing Professor – Hult Labs, he played a key role in transforming Hult's MBA.
For eight years, he ran his own boutique executive education and consulting company, Ishan Advisors, LLC. Through Ishan, he taught programs for high potential executives at global companies like FedEx, Nielsen, ConAgra Foods, J&J,and Kraft. Strategy consulting clients included SAP, and J&J. He has also given keynote addresses in various forums.
He served as the Chief Technology & Strategy Officer of a small NASDAQ-listed technology company (TurboChef Technologies). He worked with executive officers of global companies to launch products that embodied TurboChef's technologies, and negotiated intellectual property agreements to create next generation products.
He was Director and co-practice-leader at a global consultancy (Arthur D. Little); and founded the strategic consulting business at a NASDAQ-listed analyst company (Forrester Research). He has helped corporate leaders craft business,
organizational, and market entry strategies. He has also led operations improvement teams, and multi-organizational, multi-functional, groups that developed and launched next generation products. His clients included J&J, GSK,Dunkin' Brands, SAP, and United Healthcare.
He earned his undergraduate engineering degree from BITS, Pilani (India), an MBA from the Darden School of the University of Virginia (USA), and his doctorate from Harvard Business School.
Event details:
Date: Thursday, November 17, 2016
Venue: Foreign Correspondents' Club, FCC
Location: Verandah, Foreign Correspondents' Club, 2 Lower Albert Road, Central, Hong Kong
Fee: $475 (includes three-course dinner). Drinks available on a cash bar basis.
Registration: please register and pay online at http://imdhongkongdigitalworld.eventbrite.hk
Please register by Monday, Oct 31, 2016. Partners and friends are welcome, if seating permits. Registration will be on a first-come first-reserved basis with priority given to alumni. Please contact our club at hong_kong@alumni.imd.ch, if you have any problems with registration.
Event program:
18:30 - 19:15 Registration
19:15 - 20:00 Presentation by Dr. Amit Mukherjee
20:00 - 21:30 Dinner, and Networking
*please kindly indicate if you have any allergies or food restrictions (vegetarian) by sending e-mail to hong_kong@alumni.imd.ch
We look forward to welcoming you at the event.
IMD Alumni Club of Hong Kong