Leadership Forum: Social Risks and Lessons Learnt from the Hayne Royal Comm...
Description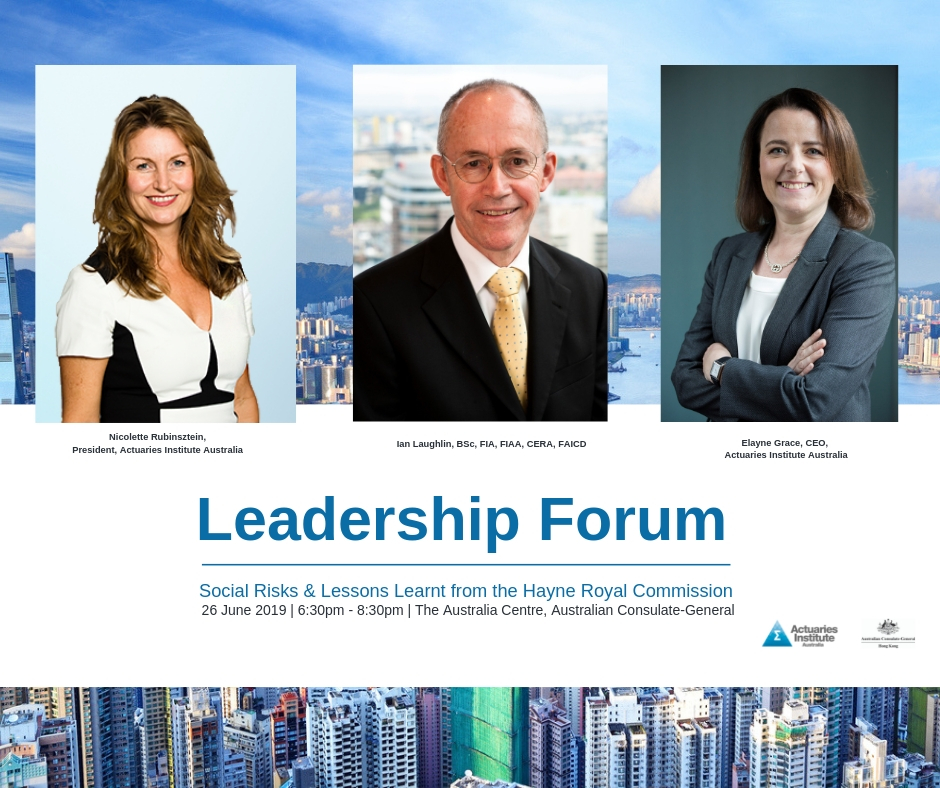 The Actuaries Institute Australia, in partnership with Australian Consulate General, is delighted to co-host this Leadership Forum in Hong Kong. This session will focus on how professionals working in the modern business environment affected by corporate culture, media pressure and the power of swiftly changing social attitudes and new social capabilities, can operate effectively.
The Financial Services Royal Commission Final Report has sparked even greater scrutiny of the performance and culture of financial institutions, both in Australia and abroad, and managing these 'social risks; needs a fresh approach. Members, Australian alumni and interested professional will be benefit from attending the Leadership Forum.
*Entry to the Consulate is subject to security screening. Please have photo ID in case required.
Speakers bios
Nicolette Rubinsztein, President, Actuaries Institute Australia
Nicolette is a Non-Executive Director of several financial institutions. Previously she was General Manager at Colonial First State/ CBA for 14 years and on the board of the Association of Superannuation Funds Australia for eight years. She is a graduate of the Australian Institute of Company Directors and has an executive MBA from the Australian Graduate School of Management. Nicolette is a University of New South Wales Alumni Leader and is on theMacquarie University Faculty of Business and Economics Advisory Board.

Ian Laughlin, BSc, FIA, FIAA, CERA, FAICD

Ian has a deep interest in risk management and risk culture - particularly in the financial services world. He has had a long career in financial services senior management and board roles, in various countries. He currently chairs the boards of a group of insurance companies owned by one of the major banks and is the Advisory Board Chairman of Blackhall and Pearl, a specialist risk management and board performance firm. Until mid-2015, he was Deputy Chairman of APRA, the prudential regulator of banks, insurance companies and superannuation funds. In 2018 Ian was awarded Actuary of the Year. Ian has written two papers for the Institute's Dialogue Series Social Risks - for a Financial Service Business

Elayne Grace, CEO, Actuaries Institute Australia
Prior to becoming CEO in 2017, Elayne was previously Deputy CEO and Head of Public Policy from 2013 - 2017, responsible for the development and implementation of the Institute's public policy strategy. Elayne has 25 years' international experience with leading consulting firms and major insurers. She is a graduate of the Australian Institute of Company Directors, a Fellow of the Institute of Actuaries of Australia and of the Institute and Faculty of Actuaries (UK) and has a Bachelor of Arts in Accounting and Finance.


































































































































































































































































































































































































































Organiser of Leadership Forum: Social Risks and Lessons Learnt from the Hayne Royal Commission