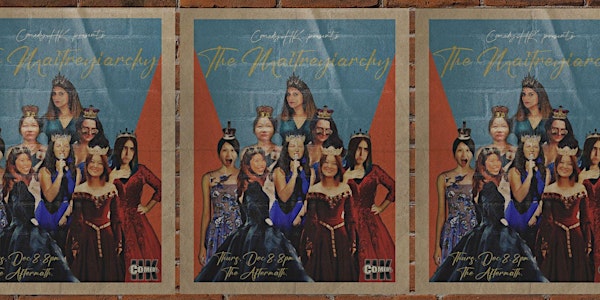 LaughterLaughs @ the Aftermath: The Maitreyiarchy
LaughterLaughs @ the Aftermath: The Maitreyiarchy
When and where
Location
The Aftermath 57-59 Wyndham Street Hong Kong, HKI Hong Kong
Refund Policy
Contact the organiser to request a refund.
About this event
The best and brightest comedians in Hong Kong return to the Aftermath!
Featuring Maitreyi Karanth, Cassi Thomas, Tonia Yim, Kate Hu, Abby Tsao, Mary Ng, Asher Chan, and Nina McGrath!
-
Maitreyi Karanth an actor, producer took up stand-up comedy as just an extension of her real life persona, at the age of 44. Being married and having lived outside India for 22 years, first in the Middle East and now in Hong Kong, she has collected a treasure chest of funny experiences across different geographies and cultures.
After her very second open mic she was spotted by Saurabh Pant who was then touring Hong Kong and asked to open for him. Since then she has opened for Tom Cotter, Gina Yashere, Atul Khatri, Amit Tandon, Tom Rhodes, Paul Ogatta and Sean Patton. She has also performed in Bangkok, Singapore and India as a featured comedian, and starred in the film My Indian Boyfriend (2021)
-
Founder of Chaotic Hong Kong Expats, Cassi FM chooses not to use her real last name because her family are already ashamed of her enough. Born and raised a Hong Kong "gwai mui", Cassi's number one interest in life is a bar in Lan Kwai Fong called Stormies. Other interests include ranting to people on a range of issues that that pretty much always fall on deaf ears such as: Hong Kong politics, feminism and the correct way to eat hairy crab. She can be seen around town performing stand up comedy or on one of her hit web shows, You Can't Sit With Us or Excuse My English and is usually being mobbed by a crowd of adoring fans.
In her spare time, Cassi enjoys making memes about english teachers on the internet. Cassi is a Hong Kong local though you wouldn't be able to tell it looking at her face and ability to wield an umbrella without poking out someones eyes. Her comedy style has been reviewed in quotes such as "abrasive" and "i wasn't aware there was even a show going on" and "that girl seemed really sad".
-
Born in Hong Kong and raised in Canada, Tonia began doing comedy in 2010 when she moved back to Hong Kong. Her experience of being an immigrant at a young age is her inspiration for her comedy. Her unique voice has captivated the audience and busting eardrums and speakers in many cities including Hong Kong, Beijing, Shanghai, Suzhou, and Shenzhen. Tonia does standup in English, Cantonese, and Mandarin. When asked why she likes stand-up comedy --- "I do it for the love of the art, and to be in the company of smart, likeminded people who enjoy sharing their ideas and making each other laugh."
-
Kate Hu developed her unique sense of humor by always talking back to her very Chinese parents growing up. She was fascinated the first time she came across Jerry Seinfeld and Louie CK's comedy on the internet, though the Great Firewall. After years of copycatting her favorite comedians' jokes to her friends, she was finally pushed to write and perform her own stuff. Kate's dream is to become the first comedy therapist. It's been working for her... so far.