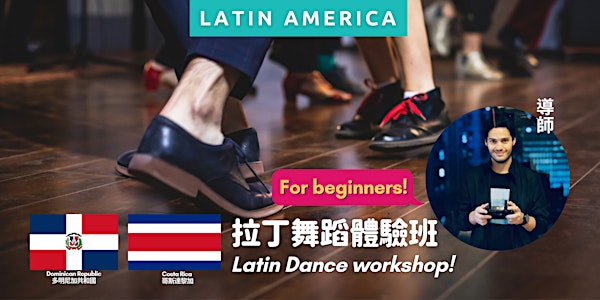 Latin Dance workshop! 拉丁舞蹈體驗班
自哥斯達黎加的朋友教各位初學者點跳梅倫格舞(Merengue)和巴恰達舞(Bachata)。
When and where
Location
Bling Storm Dance Studio 105 How Ming Street #Rm C, 14/F Kwun Tong, KOW Hong Kong
About this event
外遊旅行時,論邊個地方嘅人最熱情好客,相信不少人都會聯想起拉美人。究竟拉丁美洲有咩過人之處,令拉美人會主動邀請陌生人到家作客,跳舞聊天到達旦?
對生命中的一切充滿熱情,是因為拉美人有着「今日唔知聽日事」嘅人生觀。因為生命中有太多不確定的事,變化不定,正是這樣令拉美人活在當下。既然不知將來會否再見,那就把握每次認識新朋友嘅機會,用熱情的舞蹈歌頌人生!
而今年的暑假,有幸邀請了來自哥斯達黎加的朋友JC,教各位初學者兩種拉丁美洲中都算流行嘅舞 — 梅倫格舞(Merengue)+ 巴恰達舞(Bachata)。
一直想學拉丁舞的你,就快啲把握機會,一齊嚟chill 下!
Latin America is famous for the hospitality of its people. Do you know what makes Latin Americans invite strangers into their homes and dance and chat until the end of the day?
The motto of Latin Americans is to be passionate for everything in life. Because there are so many uncertainties in life, so many changes, Latinos choose to live in the present. Since we don't know if we will see each other again, let's seize every opportunity to meet new people and sing about life with passionate dance!
This summer, we have invited our friend JC from Costa Rica to teach two dances that are popular in Latin America - Merengue and Bachata.
If you've always wanted to learn Latin dance, take the opportunity to come along and learn! Dance your summer away with passion!
日期 Date:22/8/2022 (Monday)
時間 Time :7:30-8:30 PM
地點 Venue : Bling storm dance, Kwun Tong
語言 Language:English 輔以廣東話
名額 Quota:15
費用 Fee:$100
拉丁舞資料:梅倫格舞(Merengue)是多明尼加的民族音樂及舞蹈,透過舞蹈能呈現其民族的傳統。巴恰達舞(Bachata)則是比較感性和浪漫的,主題是描寫愛情的浪漫與心碎。捉住暑假嘅尾巴,大家一齊嚟感受下拉丁舞嘅熱情啦!
Basic info of the dance: Merengue is the national music and dance of the Dominican Republic, with its instruments and costumes representing the country's heritage. Bachata is a more sensual, romantic style, dance to music with lyrics revolving around topics of love, sex, and heartbreak.
—————————
不使用信用卡,其他付款方式:
恒生 Hang Seng: 788-002 681-883
戶口名稱 Account Name: INTER CULTURAL EDUCATION LIMITED
FPS 轉數快: ice@icehongkong.com
請輸入100% off優惠碼「EXPLORER」登記留位,再傳送付款証明到 WhatsApp 90395369 https://wa.me/85290395369
_________________
Organisation Introduction:
We are Inter Cultural Education (ICE), a social enterprise aiming to educate people to appreciate and be able to accept the cultural diversity of the world. ICE has helped more than 30,000 people in Hong Kong to connect and understand the world better through cross-cultural dialogues.
In the past 10 years, ICE has worked with people from more than 85 countries from all walks of life to promote the solidarity of a local community with the international community. Due to the situation under COVID-19, we are offering a special online programme called Explorers' Month, to bring the world to the public without leaving the city through a series of events. Follow our social media to learn more about world cultures: