About this Event
How do you find cure to your hurt and traumas? Do you feel connected enough to your mind and body and further to your spirituality?
Let me share Ayurveda, this timeless ancient wisdoms, with you on how you can become closer with your own mind and body first. Knowing "who you are" and "why you are how you are" is the first step to take your power back in life.
In this epidemic time, we are forced to reflect and retreat. It's the first time in our time that we really start asking the right questions: what do I need in life? What is really important to me? Those questions are important to ask. In this 2HR Ayurveda Immersion workshop, I'd like to bring Ayurveda closer to you so you get to know your own body type and current imbalances. You will get to know who you are and what needs to be balanced in your current life style. And how we can benefit from Ayurveda to help you heal yourself and become happier.
The flow:
PART (1) 2-3:15pm
Introduction of Ayurveda 5 elements, 3 dosha and what that mean to you
Conduct self-assessment of current imbalances (Any participants will take a free self-assessment to find out your own Prakruti – body type)
Share how to do Ayurvedic Thai Bodywork (massage) to support Prana Vayu and Udana Vayu (treating Vata imbalances) & Self-Practice
PART (2) 3:15- 4pm (Limited Space for 8 ppx)
Experience an Ayurveda Yoga Therapy class and Ayurvedic Thai Massage practice
Location: Lamma Art Collective
Investment: HK$ 300 for Part (1) & (2)
Investment: HK$ 150 for Part (1) Only
Bring Your Own Mat and Towels for sanity measures 😉 We will practice safe for a smaller group
What's Ayurveda Yoga?
Click the Event page to learn more: https://vatayogaretreat.com/2020/06/10/ayurveda-immersion-workshop-on-lamma-island/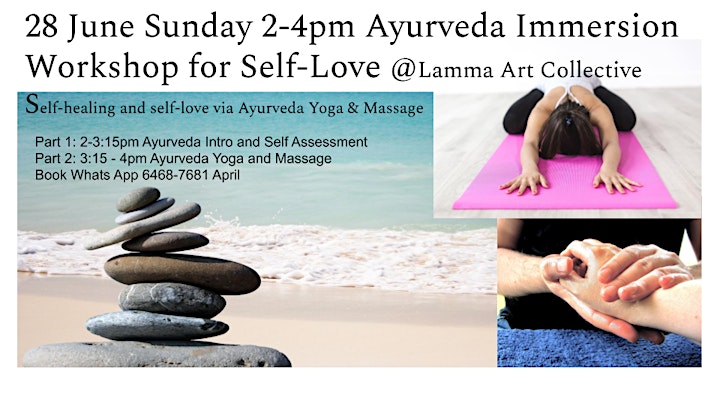 What's Ayurveda Yoga?
Click the Event page to learn more: https://vatayogaretreat.com/2020/06/10/ayurveda-immersion-workshop-on-lamma-island/