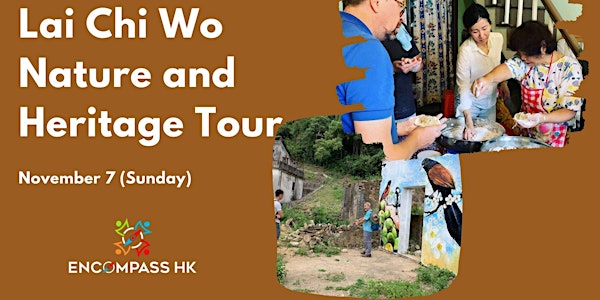 Lai Chi Wo Nature and Heritage Tour
Highlights: Lush and shaded nature path; visit a largest intact Hakka Village and Feng Shui woodland; Hakka Dumpling Class
When and where
Location
Lai Chi Wo Lai Chi Wo Lai Chi Wo, NT Hong Kong
About this event
The 300-year-old village of Lai Chi Wo was once one of the most affluent hamlets in the northeastern New Territories. Mostly made up of Hakka people, it also has one of the oldest surviving feng shui woodlands in Hong Kong. The Lai Chi Wo village is a traditional Hakka village which was established as early as 1670s and has a long history of farming. Much of these capitals have been conserved partly due to the remoteness of the site.
The village features a God of War temple and a mangrove habitat with ancient vegetation, including huge interlocking-branch trees, hollow trees and 'five-finger' camphor trees. This area was once known for its lychee trees and has a long history of farming. Most residents have left in the last decades, with only a few returning on weekends, or over festival times. The houses remain well preserved and the feng shui wood behind the village flourishes, home to camphor, autumn maple, incense tree and other specimens – it is said to be one of the oldest surviving feng shui woodlands in Hong Kong.
Lai Chi Wo is part of the Hong Kong UNESCO Global Geopark due to its special geological significance as well as natural and cultural richness. Its coastline has the largest population of Coastal Heritiera ( Heritiera littoralis 銀葉樹) and White-flowered Derris ( Derris alborubra 白花魚藤) in Hong Kong and was designated as a Site of Special Scientific Interest (SSSI) in 1979. The Heritiera impresses with its buttress roots while it intertwines with the White- Flower Derris, a plant creating wild wood slings throughout these woods.
Itinerary
8:45am Gather at Ma Liu Shui Pier
9:00am Private Boat to Lai Chi Wo, view of New Territory Northeast famous scenery and Wong Chuk Kok Tsui Bluff Head Formation
1030am Arrive Lai Chi Wo
10:45am Visit local temples and museum to understand Hakka Culture
11:30am Visit Mui Tze Lam and local mural art
1:00pm Lunch
1:30pm Hakka Dumpling class
2:30pm Feng shui woodlands walk
3:30pm Taking Ferry back to Ma Liu Shui
5:00pm Arriving Ma Liu Shui
Fee: $700 (adults), $600 (childen under 😎,including lunch, guide fee, dumpling making class and private boat.