Join us for a panel discussion featuring Bonnie So, Bonnie Ohri, Lihua Li and Rong Yu sharing stories and perspectives of interviewers.
About this event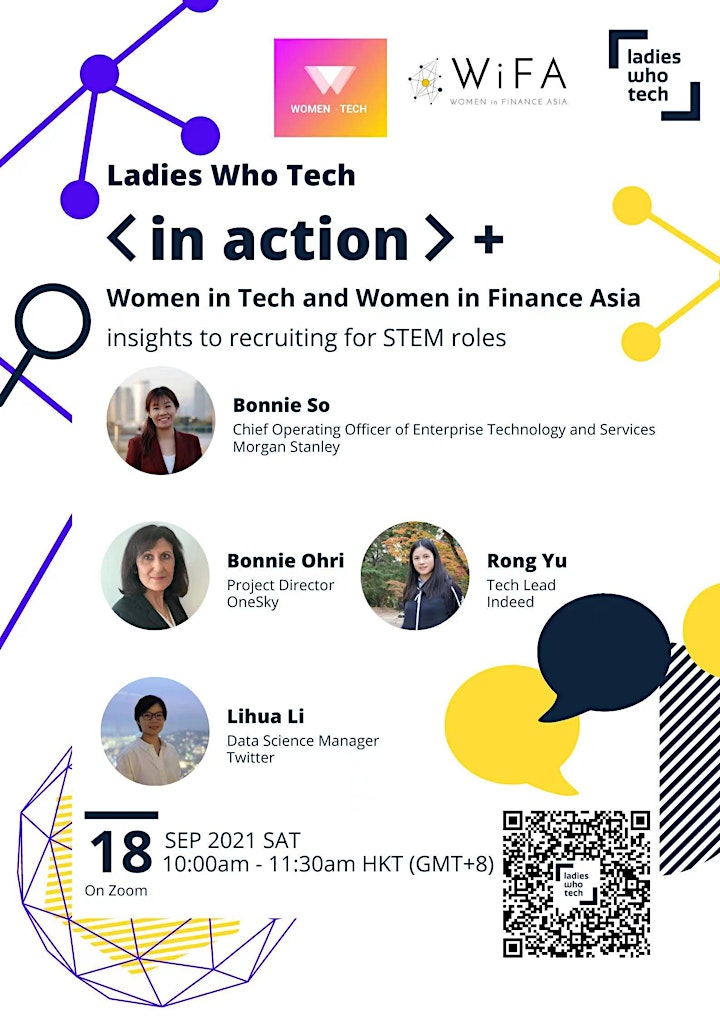 Ladies Who Tech In Action x WiFA x WIT – Insights to Recruiting for STEM Roles, Sharing by Interviewers 面試官經驗分享會
9月18日周六10:00点 (HKT),Ladies Who Tech Hong Kong攜手Women in Finance Asia以及Women In Tech一起分享面試官的故事和觀點。
大多數人都是以面試者的身份開啟職業生涯的。然而隨著個人的發展,我們也許會開始承擔另一種身份——成為坐在桌子另一端的面試官。我們可以從面試他人的經歷中學習到什麼?而一名優秀的面試官又會為面試者和團隊帶來多大的影響?
Ladies Who Tech Hong Kong 攜手Women in Finance Asia以及Women In Tech,榮幸地邀請到了四位經驗豐富的面試官來分享他們的故事和觀點。如果你是面試者,這將是理解面試官觀點的好契機。如果你是新手面試官或準面試官,就更加不能錯過這個難得一見的向資深面試官們學習的寶貴機會!
此項活動歡迎各界參與,費用全免,請從速報名。
Ladies Who Tech Hong Kong, together with Women in Finance Asia and Women in Tech, will bring us a virtual panel discussion about stories and perspectives from interviewers and recruiters on Saturday, September 18 starting at 10am.
Most of us started our career as interviewees trying to excel in interviews. But sooner or later, as our career develops, we may find ourselves sitting across the table interviewing candidates. Have you ever wondered what you could learn from being an interviewer? Or how big a difference you could make by being a good interviewer?
Ladies Who Tech Hong Kong is honored to invite four remarkably experienced interviewers from finance and technology industries to share their stories and perspectives. Special thanks to our partners, Women in Finance Asia and Women in Tech, for their support.
As an interviewee, this is a great chance to understand interviewers' perspective. As a newbie interviewer or an interviewer-to-be, you cannot miss this precious opportunity to learn from the accomplished panelists.
Everyone is welcomed to this free virtual event. Register for a spot!
演講嘉賓GUEST SPEAKERS
Bonnie So
摩根士丹利企業技術和服務首席運營官/ WiFA 聯合主席
COO Enterprise Technology and Services, Morgan Stanley and WiFA Co-Chair
Bonnie是Morgan Stanley技術部門的企業技術和服務的首席運營官,此外她也是負責公司網絡安全計劃的開發、實施和構建控制和解決方案的技術團隊的成員。
作為一名經驗豐富的面試官,Bonnie一直專注於如何增加技術團隊的多樣性,同時為新團隊成員提供指導。在工作之外,Bonnie是亞洲金融女性 組織(WiFA)的董事會成員和聯合主席,WiFA是一個非營利性協會,致力於通過激勵女性和男性成為我們社區的倡導者、變革者和領導者,讓女性充分發揮我們的專業潛力。
At Morgan Stanley, Bonnie is the Chief Operating Officer of Enterprise Technology and Services under the Technology Division in the region, in addition to her role as part of the Technology team responsible for developing, implementing and building controls and solutions for the Firm's Cybersecurity Program. As an experienced interviewer, she has focused on ways to increase diversity on her tech teams while providing mentoring and coaching for new team members. Outside of work, Bonnie is the Board Member and Co-Chair for Women in Finance Asia (WiFA). WiFA is a not-for-profit association that is committed to empower women to achieve our full professional potentials by inspiring both women and men to become advocates, change makers and leaders in our community.
Bonnie Ohri
OneSky 項目總監/WiFA 董事會成員
Project Director, OneSky and WiFA Board Member
Bonnie Ohri 在公共服務領域擁有廣泛的職業生涯,專注於設計、實施和管理有益於邊緣化社區的國際和國內項目。她的專長涵蓋初級保健服務提供、醫療保健政策和傳播策略。她曾在美國政府擔任多個高級管理職位超過 25 年,其技能涵蓋面試、招聘和管理大型技術人員團隊,以及促進多元化和包容性。在過去的兩年裡,Bonnie與香港的幾個非政府組織合作,幫助面試和招聘過程。目前,她是美國政府的顧問和亞洲金融女性 組織 (WiFA) 的董事會成員。
Bonnie Ohri has had an extensive career in public service focused on designing, implementing, and managing international and domestic programs that benefit marginalized communities. Her expertise spans primary care service delivery, health care policy, and communication/dissemination strategy. She has held various senior management positions in the U.S. government for over 25 years with skills that span interviewing, hiring and managing large teams of technical staff, and promoting diversity and inclusion. For the past two years, Bonnie has worked with several NGOs in Hong Kong, helping with the interviewing and hiring process. Currently, she is a consultant for the U.S. government and Board Member of Women in Finance Asia (WiFA).
Lihua Li
Twitter數據科學經理
Data Science Manager, Twitter
LiHua在數據科學領域有7年以上的工作經驗。她熱衷於根據數據和科學制定產品開發戰略。在此之前,她在金融行業主要專注於構建用於風險管理和欺詐檢測的機器學習模型。 LiHua從2016年開始招聘和面試。目前,她還擔任Twitter數據科學招聘委員會的聯合主席,以改善招聘流程。
Lihua has 7+ years working experience in the data science field. She is passionate about shaping product development strategies based on data and science. Prior to this, she was in the finance industry primarily focusing on building machine learning models for risk management and fraud detection. Lihua had started hiring and interviewing people since 2016. Currently, she is also co-chairing the Data Science Hiring Committee at Twitter to better the hiring process.
Rong Yu
Indeed技術負責人
Tech Lead, Indeed
Rong擁有11年的軟件開發經驗。她喜歡開發軟件來解決實際問題去改變和改善人們的生活。她現在的工作是用技術幫助人們找到工作。 Rong是個有經驗的技術面試官。在過去的3年裡,她參與了大約250次面試,同時也幫助其他工程師面試。
Rong Yu has 11 years of experience in software development. She loves developing software to solve practical problems and to transform and improve the lives of people. She's now coding to help people get jobs.
She's an experienced technical interviewer. In the past 3 years, she has participated in about 250 interviews. She's also helping other engineers to be interviewers.
Organiser of Ladies Who Tech - Insights to Recruiting, Sharing by Interviewers