Ce programme offre une vue d'ensemble de l'état d'esprit et des compétences nécessaires pour assurer des formations virtuelles interactives
About this event
Longue vie à la formation virtuelle ! Cela fait maintenant 18 mois que la plupart d'entre nous animons l'intégralité de nos formations depuis notre ordinateur et non plus en présentiel. Nous avons dû adapter nos contenus et notre style animation à un format virtuel.
Quelles leçons pouvons-nous retirer de ces 18 mois ? Quelles compétences avons-nous développés et/ou perfectionnés depuis le début de la pandémie. Et surtout, que nous reste-t-il encore à apprendre ?
La technologie a fait des grands progrès dans ce domaine et il existe maintenant une multitude d'applications pour animer en ligne de manière efficace. Plus précisément, nous pouvons maintenant animer des formations expérientielles sur toute une gamme de sujets et en ayant recours à des outils variés.
Chez The Learning Gym, nous avons traduits la majorité des activités que nous utilisions en présentiel pour nos formations en ligne. Dans de programme, nous partagerons avec vous tout nos petits secrets.
Le programme se concentrera sur 4 aspects de la formation en ligne :
a) Une feuille de route claire
b) Le bon matériel et outils
c) Fitness, agilité et mental
d) Les autres grimpeurs
Il existe déjà plein de littérature sur comment animer en distanciel et sur différentes plateformes que l'on peut utiliser. Ce sur quoi nous nous concentrons dans ce programme, c'est de vous permettre d'avoir une approche holistique de ce que la formation en ligne demande de nous pour éviter d'en faire une montagne. Quelle que soit la plateforme que vous utilisiez, ce programme vous permettra de continuer le développement de vos capacités à animer des formations en ligne interactives et impactantes.
Rejoignez-nous pour cette grimpette interactive de 2 heures :
- Vous développerez une meilleure compréhension de ce qui est nécessaire pour traduire vos contenus du présentiel au distanciel.
- Vous découvrirez des activités simples, ludiques et efficaces pour concevoir des formations expérientielles et basées sur les besoins de vos apprenants et qui vont plus loin que les sondages, chat et autres sous-groupes.
- Vous aurez l'opportunité de mieux comprendre l'état d'esprit nécessaire pour vous aider vous et vos apprenants.
Nous offrons ce programme aussi bien en inter qu'en intra. Contactez-nous pour en savoir plus : info@thelearninggym.co
A bientôt en ligne !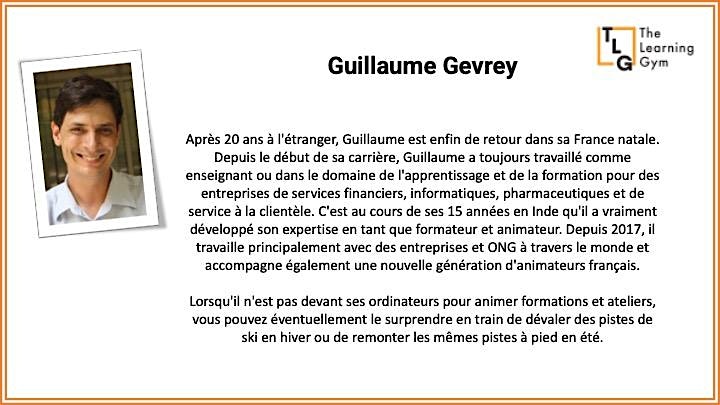 Organiser of La formation virtuelle, pas de quoi en faire une montagne!
Our focus is upskilling learning professionals – it's that simple. Learning professionals are often busy focusing on the needs of their learners, and their challenge is finding the time and the right tools for their own learning. This was the primary reason for the creation of The Learning Gym.
Much like a gym tends to cater to a versatile audience and differing needs, The Learning Gym does the same by offering a variety of formats and types of tools to suit the needs of learning professionals. We offer a one-stop shop to address your learning and education requirements. We provide a space for you to exchange new ideas, learn from proven methodologies and tools and from each other. The end objective is for you to be able to flex, tone and build your learning muscles!
What makes us different? We'd like to think there's a lot that sets us apart!
We're "glocal"– we bring global tools and adapt them to the local markets.
We cater to the entire learning project cycle and offer support (through tried and tested tools) for all the stages of learning. So irrespective of where in the life cycle of a learning project your role and focus are on, we are here to support you in being more effective.
We also offer different "fitness tracks" to make you more "fit" as a learning professional. Our fitness tracks work on the premise that a fit learning professional –
• Assesses learning needs
• Engages relevant stakeholders early on and starts with the end in mind
• Designs learner-centric solutions
• Leverages technology
• Delivers with impact and is memorable in the room
• Makes learning stick (by thinking beyond the classroom) and supports post-program application
• Measures and demonstrates results