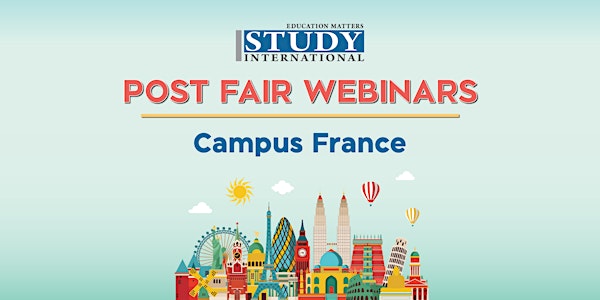 Know more about the PhilFrance-DOST Scholarship for Filipino students!
Choose your program from the thousands of courses that you can pursue!
About this event
Founded in 2010, Campus France is the French Agency for the promotion of higher education, international student services, and international mobility. Our mission is to make sure students and researchers alike find the French program that best suit their needs and are welcomed in line with the French art de vivre.
Program selection: Want to learn making the most exquisite croissant in Paris, earth sciences on the mountains of Grenoble, or film making worthy of conceiving Cannes' next feature? Let us help you choose your program from the thousands of courses that you can pursue: from short courses, to university and post-doctorate programs.
Financing your studies: Find out how you can finance your stay in France, be it with social aid made available to foreign students in France or via scholarships offered from France and locally. Join tomorrow's elite and apply for the Eiffel Excellence scholarship, be one of the Philippines' multidisciplinary master's degree holders with the all-inclusive PhilFrance program, or push scientific frontiers under the collaborative PhilFrance-DOST scholarship.
Assistance for migration and integration: From making your visa application as seamless as possible to giving you tips for your stay and better student life, we're here every step of the way.