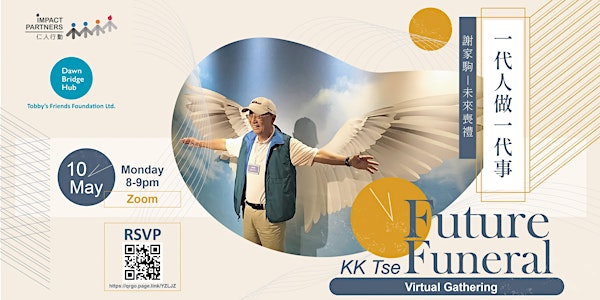 KK Tse: Future Funeral 謝家駒: 未來喪禮
KK Tse: Future Funeral - Virtual Gathering 謝家駒: 未來喪禮
Refund Policy
Contact the organiser to request a refund.
About this event
Zoom: May 10, 2021 (Mon) 8pm - 9pm (open to all)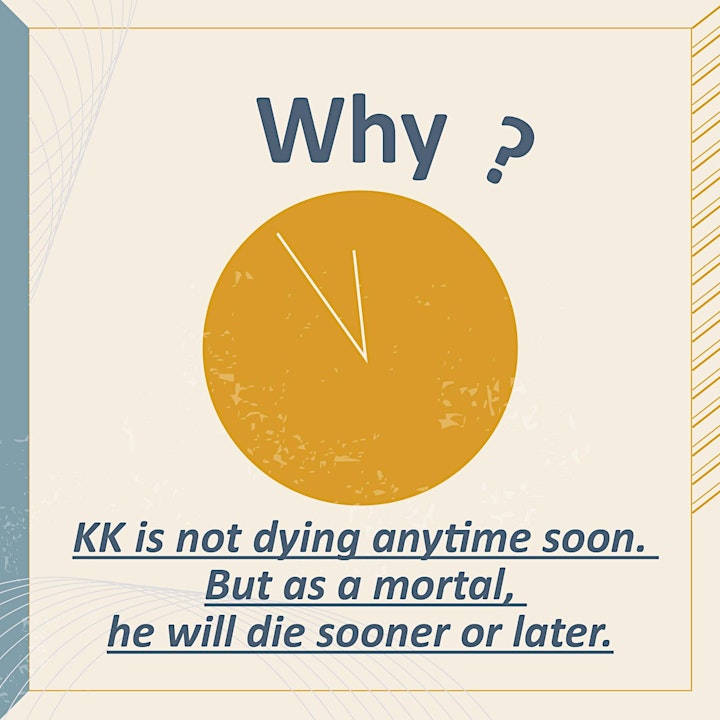 KK is not dying anytime soon. But as a mortal, he will die sooner or later.
He is interested in designing his future funeral & rehearsing it.
2-Folded Deeper Reasons: KK wants to ...
a/ Present his own life story & lists of regrets (rarely done in a 'real' funeral);
b/ Hear what other people say about him especially their genuine thoughts, and would not like to miss it.
How will it unfold?
Before 10 May, each registered guest will receive a video, entitled 一代人做一代事 (in Chinese), from KK. After enjoying the video, please send a 50-word message back to him (on email, WhatsApp, Signal, WeChat, etc) in order to be admitted to the Zoom session.
On 10 May, KK will deliver an "end-of-life" speech, sharing his achievements & failures, aspirations & shortfalls, joy & disappointments, hopes & fears, gratitude & regrets…
Interactive, Heart-to-Heart Talk with KK!
Those who have been inspired by the Zoom Session will have the option to attend the In-Person Gathering. Details will be announced on 10 May.
Fee: HK$100 - will be used for arranging children of low-income families to come to play at Children's Bamboo Park, one of the latest initiatives of Impact Partners.
Enquiry: phoebe.lam@impactpartnershk.com