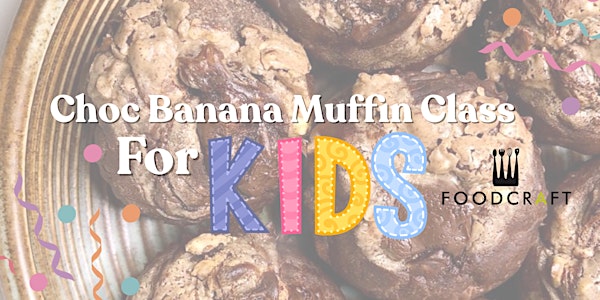 Multiple Dates
KIDS Choc Banana Muffin Class (VG & GF) - Plant-Based & Fuss-Free Cooking
Running out of parent-kid activities to do on a day without school? Join Sincerely Aline at FoodCraft for a healthy snack baking session.
About this event
*Class Cancellation Policy applies, please refer to the bottom of page
Drumroll please... say hello to our children's cooking class with Aline!
If you liked Aline's teaching on simple and healthy food for the big kids (adults!), the good news is that you can now join with your little ones!
Aline is all about preparing healthy meals that are sustainable (cost and time wise too!). In this class, we will teach how simple this can be done and how to store dumplings for a rainy day :)
Most importantly, this is a perfect class to introduce the idea of cooking to your kids by having fun with mixing, flavouring and wrapping, and of course... eating! Not only expanding their knowledge on measuring and creating, we wish to help them learn to share and enjoy plant-based food!
Join us to learn how to prepare fuss-free vegan dumplings!
WHAT WILL YOU LEARN?
- Kimchi (or sauerkraut) Shiitake Dumplings
- Simple chopping (young children will use scissors)
- How to wrap dumplings
- How to cook dumpling
- A bit of dumpling history
- Why homemade dumplings a better?
- What is sauerkraut and why it's good for you
WHAT WILL YOU TAKE HOME?
- Recipes
- Food made in class
WHAT TO BRING?
- 1x Apron
- 1x Pen
- Tupperware container to take back your food
DETAILS
Length of Class: 1.5 hours
Venue: 21/F, Yiuga Factory Building, 62 Victoria Road, Kennedy Town
PLEASE ATTEND WITH A CARE GIVER
Children under the age of 7 must attend with either a parent of a caregiver.
CLASS CANCELLATION POLICY
We will confirm your seat(s) once all fees are received. Deadline for any cancellation or changes(eg. rescheduling) is 7 days prior to the scheduled date of the event. All fees will become non-refundable after the deadline. Cancellation requests should be made in writing at least 7 days prior to the class for any refund to be processed.
*The policy applies to sign-ups within the 7-day period before the scheduled event
Organiser of KIDS Choc Banana Muffin Class (VG & GF) - Plant-Based & Fuss-Free Cooking