Description
On Friday August 7, Hong Kong International Literary Festival will host an evening to celebrate the release of Kevin Kwan's latest book China Rich Girlfriend, a follow up to his critically-acclaimed debut Crazy Rich Asians. Kevin's new novel is a wickedly funny tale of social climbing, secret e-mails, art-world scandal and lovesick billionaires.
Join Kevin at the exclusive KEE Club for a reading from his brand new book, an interview and a Q&A session.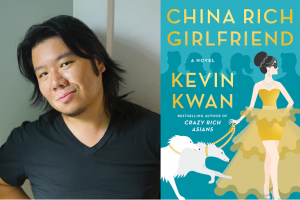 About the author
Born and raised in Singapore, Kevin Kwan moved to the United States when he was eleven. He obtained his first degree in creative writing from the University of Houston. He then moved to Manhattan to pursue a BFA at Parsons School of Design. Kevin used to work for Martha Stewart Living, Andy Warhol's Interview magazine, and M&Co, the legendary design firm founded by Tibor Kalman. His own creative studio, which was established in 2000, produced high profile visual projects for clients including the New York Times, the Museum of Modern, Art Rockwell Group, and TED.com. After working as a visual consultant by acclaimed authors like Michael Korda, Gore Vidal, and Larry McMurtry, he returned to his first love—writing. His debut novel Crazy Rich Asians became an international bestseller in 2013 and is currently being adapted into a feature film by Ivanhoe Pictures and Color Force, the producers of The Hunger Games movies. The sequel, China Rich Girlfriend, hit bookstores around the world this summer.
Kevin Kwan's Website | Review from SCMP
About the Moderator
Born in Hong Kong, Jason Y. Ng is a globetrotter who spent his entire adult life in Italy, Canada and the United States before settling in his birthplace to rediscover this roots. Jason is the bestselling author of HONG KONG State of Mind (2010) and No City for Slow Men (2013). His short stories have appeared in various anthologies. Jason is a resident blogger for The South China Morning Post and a contributor to TimeOut and Manifesto magazines. His social commentary blog "As I See It" and lifestyle column "The Real Deal" have attracted a cult following on blogsphere. Jason speaks frequently at universities and cultural events and appears from time to time on radio and television.
In Partnership with:

Organiser of Kevin Kwan and his CHINA RICH GIRLFRIEND
Hong Kong International Literary Festival Ltd.
The Hong Kong International Literary Festival (HKILF), founded in 2000, is an annual event held over ten days in autumn, featuring established and emerging writers from around the world in a programme that includes discussions, literary lunches and dinners, workshops, lectures, debates, book signings, and readings.
The stellar list of past HKILF authors includes literary luminaries such as Seamus Heaney, Louis de Bernières, Colm Tóibín, Jung Chang, and Yann Martel.
HKILF is organized and coordinated by Hong Kong International Literary Festival Limited, a non-profit, charitable literary arts organization which also manages the annual Young Readers Festival.
HKILF brings writers and book lovers together at events that allow them to share ideas.
Hong Kong is uniquely positioned to attract not just the best authors and thinkers in Asia, but globally. The city that built itself on the exchange of goods, is now also the region's focal point for the exchange of ideas.
Literature makes us think, it gives us new perspectives. HKILF starts conversations that build a better society.