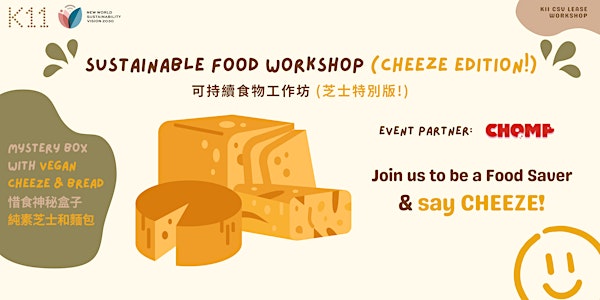 K11 CSV Lease | Sustainable Food Workshop (Cheeze Edition) 可持續食物工作坊 (芝士特別版)
Something you can't miss - join us to be a food saver and say CHEEZE!!
When and where
Location
Nature Discovery Park 18 Salisbury Road 8/F K11 MUSEA, KOW Hong Kong
About this event
K11 可持續發展部將於9月26日下午4:30至5:30於K11 MUSEA 的 Nature Discovery Park舉辦可持續食物工作坊(芝士特別版),討論食物與日常消費、廢物管理的關係。參與者更會收到一個神秘盒子,並可品嚐盒子內不同純素芝士及麵包產品。
工作坊費用全免。由於名額有限,每個租戶可享有4個名額,先到先得。歡迎您和同事一起參加!
食物過敏警告:此活動將提供不同麵包含有堅果的純素芝士。如果您有食物過敏或特殊飲食需要,請通知我們。
如果您對工作坊有任何其他問題,請以電郵與我們聯繫。期待與你一起渡過一個充實的星期一下午,到時見!
As part of the CSV Lease Programme, we're hosting a Sustainable Food Workshop (Cheeze Edition) on 26 September (Monday) from 4:30pm to 5:30pm at Nature Discovery Park, K11 MUSEA. We'd like to invite you to join us and talk about food in relation to daily consumption and waste management with our partner CHOMP, Hong Kong's new food-saving app. During the workshop, you'll also be receiving a CHOMP Mystery Box containing various vegan cheeze and bread products from food surplus for tasting.
The event is free of charge and registration is on a first come first served basis with up to four seats available for each CSV Lease tenant. Please kindly confirm your attendance by clicking the link below on or before 22 September (Thursday).
FOOD ALLERGY WARNING: the event will be providing bread and vegan cheeze which contains nuts. If you have a food allergy or special dietary needs, please notify us.
If you have any further questions regarding the workshop, feel free to reach us via email.
Looking forward to your participation.