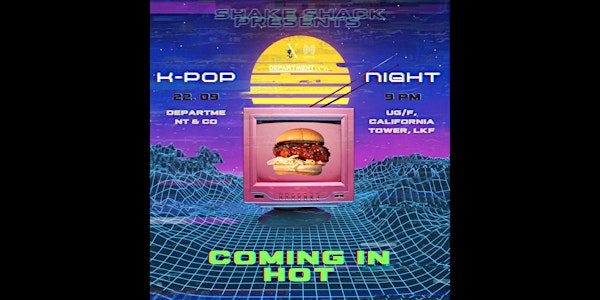 K-POP NIGHT Vol.3 ft. Shake Shack
Presented to you by ❖ Department & Co. ❖ Xanetic Ent ❖ ECHO HK
When and where
Location
Department & Co. 36 D'Aguilar Street #Tower, No. 30 Hong Kong, HKI Hong Kong
About this event
EXCLUSIVE Wristband Matching Game: Shake or Shack?😏
💚Shake with me (Just dance with me)👯‍♀️
💜Shack with me (Love me please)💕💕
K-POP PLAYLIST ALL NIGHT LONG!!! 🇰🇷🇰🇷
And nothing's more exciting than a K-POP night with SHAKE 🍔 SHACK's new Korean-inspired menu!!!
⚠️Reserve your tickets NOW, as tickets will be sold out really soon.⚠️
►▻►▻►▻► EVENT DETAILS◄◅◄◅◄◅◄
Date: 22nd September 2022 (THURSDAY)
Time: 21:00-02:00
Venue: UG/F, California Tower, 30-36 D'Aguilar Street, Central, Hong Kong
Dress Code: Dress to impress!!!!
►▻►▻►▻► TICKET ADMISSIONS ◄◅◄◅◄◅◄
Standard Ticket: HKD $200
**First 200 ticket entrances on the night will include 1x Free Standard Drink**
*First 100 ticket entrances could enjoy 1 SHAKE SHACK new menu item ON THE HOUSE*
►▻►▻►▻► DOOR POLICY ◄◅◄◅◄◅◄
✧ All guests must be over the age of 18 and must provide valid identification documents (Driving Licenses are not accepted)
✧ Check-in with the 3RD Dose of Covid-19 Vaccination, RAT Result (tested within 24hrs, with ID Name, Date and time of taking the test) and LEAVEHOMESAFE APP
✧ Additional fees will be charged for cloakroom services
✧ Additional fees will be charged for any damage, or any food and drink purchased outside and brought into Department & Co. Club
►▻►▻►▻► TABLE RESERVATIONS ◄◅◄◅◄◅
For guests who are interested in reserving a table at the event, please DM us through our official Instagram Account: echohkofficial