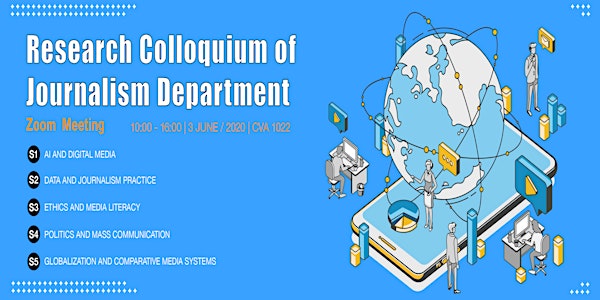 JOUR Research Colloquium 2020
Academic staff of the Department of Journalism, School of Communication, Hong Kong Baptist University, will share their research work.
About this event
(UPDATED RUNDOWN)
Section 1 AI and Digital media
1000 – 1120
Dr Zhang Yin Nick
Assistant Professor
Using time-series patterns in word segmentation and keywords extraction for online discussion data processing: A machine learning approach
Dr Wang Xiaohui Vincent
Research Assistant Professor
Discovering the interdisciplinary scientific landscape of computational social science: A bibliometric analysis
Dr Ng Yu Leung
Research Assistant Professor
Examining the perceived credibility of Deepfake: A preliminary study
Dr Celine Song
Associate Professor
Swearing Online: An Analysis of Women's Profanity Use on Weibo
Section 2 Data and Journalism Practice
1120 - 1200
Dr Stephanie Jean Tsang
Research Assistant Professor
Perceived Journalistic Motives Explain Divergent Audience Perceptions of Fake News
Dr Zhang Xinzhi
Assistant Professor
Health journalists' branding and sourcing on social media
Section 3 Ethics and Media Literacy (Part 1)
1200 - 1220
Professor Steve Guo
Who's afraid of the big bad fake news?
Lunch break 1220 – 1420
Section 3 Ethics and Media Literacy (Part 2)
1420 – 1440
Professor Alice Lee
The Development of Media Literacy in Chinese Societies: From Grassroots Efforts to Institutional Support
Section 4 Politics and Mass Communication
1440 – 1520
Dr Luqiu Luwei Rose
Assistant Professor
How Propaganda Techniques Leverage Their Advantages: A Cross-national Study of the Effects of Chinese International Propaganda on the U.S. and South Korean Audiences
Dr Janet Lo
Assistant Professor
Hong Kong's media in the midst of turmoil
Section 5 Globalization and Comparative Media Systems
1520 – 1600
Professor Daya Thussu
De-Americanizing the Internet?
Professor Cherian George
Cartoons and journalism: a marriage on the brink of breakdown