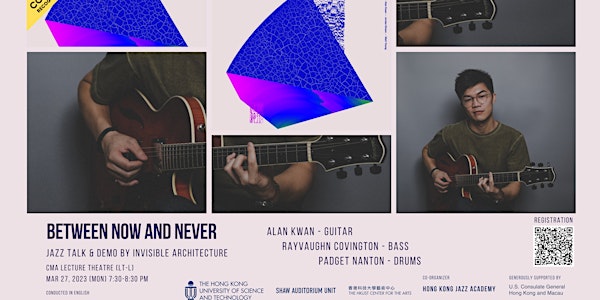 Jazz Talk & Demo: Between Now And Never by Invisible Architecture
Jazz musicians Alan KWAN, Rayvaughn COVINGTON and Padget NANTON discuss the emergence of Alan's Golden Melody Award-winning debut album.
Date and time
Starts on Monday, March 27 · 7:30pm HKT
Location
HKUST (Clear Water Bay) CMA Lecture Theater (LT-L) HONG KONG, NT Hong Kong
About this event
Introduction 活動簡介
In this talk, Hong Kong jazz guitarist/composer Alan KWAN , Rayvaughn COVINGTON and Padget NANTON will discuss the emergence of Invisible Architecture's Golden Melody Award-winning debut album Between Now and Never. Making use of the latest music production technologies and tools, the trio has created musical works that fuse ambient and electronica with the expressive vocabulary of modern jazz. The trio will perform and share details of their creative processes and the inspiration behind their album.
The event is conducted in English
活動以英語進行
This is a recognized event in the "Self-directed Experience" component of CORE1905: Behavioral Foundations of University Education: Habits, Mindsets, and Wellness. You need to attend the event in full to get 1 hour.
REMARKS
- Free admission with registration. 
免費入場 (需預先登記)。
- For HKUST members, Friends of HKUST, and invited guests only. 
活動只供科大成員、「科大之友」和受邀嘉賓參與。
- Online registration is required; each registration admits one person regardless of age.
參與活動必須預先網上登記;幼童不論年齡亦須預先登記入場。
- Please arrive 15 minutes before the showtime for paper ticket collection.
請於演出15分鐘前抵達場地以換取門票。
- Age Limit: Children under the age of 6 will not be admitted.
年齡限制: 6歲以下恕不招待
- Except for exempted persons, all visitors entering the CMA Lecture Theater (LT-L) are required to comply with the latest directions under Cap.599F.除豁免人士外,進入香港中華廠商聯合會演講廳(LT-L)的人士須遵守法例第 599F 章的最新指示。
- The organizer reserves the right in its sole discretion to make changes to the event program without prior notice. 
主辦方保留自行決定更改活動的權利,恕不作另行通知。