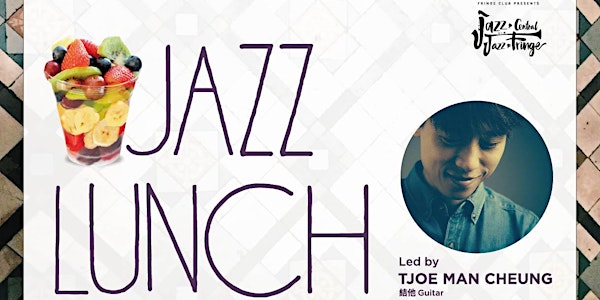 午間爵士音樂會 Jazz Lunch: Tjoe Man Cheung
When and where
Location
Fringe Dairy Hong Kong Fringe Club 2 Lower Albert Road, Central Hong Kong, Hong Kong Island Hong Kong
Description
午間爵士音樂會 Jazz Lunch: Tjoe Man Cheung
拉闊 LiveMusic - 爵士Jazz
(三 Wed) 21-11-2018 1:00 PM
奶庫 Fringe Dairy
免費入場,請預先登記 Free admission with registration

*名額有限,先到先得。
*Limited quota. Registration is on a first-come-first-served basis.

備註 Remarks:
現場設有酒吧,售賣簡單食物如三文治、蛋糕及生果。
Cash bar will be opened during event. We will also serve simple food such as sandwiches, cakes and fruits.

觀眾可於演出前30分鐘入場。
Admission will start 30 minutes before show time.

請於入場前出示已印刷的門票/電子門票。
Please present the printed tickets/ e-tickets for admission at the door.

現場設有40個座位,先到先得。餘下為企位。
40 seats plus standing spaces. Seats are first-come-first-served.
-------------------------------------------------------------------------
如你在中環上班,想暫時逃離繁忙的工作,來藝穗會欣賞一沉醉於爵士的世界。正如爵士大師邁爾士戴維斯(Miles Davis) 所說: 「爵士可以沖走每天生活中的塵埃。」
由藝穗會主辦,午間爵士音樂會是「Jazz-Go-Central, Jazz-Go-Fringe」的節目之一,讓資深及年輕的爵士樂手可於充滿爵士情調的奶庫演出。
9月至12月份由爵士結他手Tjoe Man Cheung主持。
11月21日(三) 1PM
演出:
Tjoe Man Cheung (結他)
Eugene Pao (結他)

Tjoe Man Cheung
Tjoe是一位在香港土生土長的音樂人。作為美國音樂家學院的校友,Tjoe是當今炙手可熱的音樂人才,除了是極具天賦的爵士及藍調結他手外,亦是經驗豐富的編曲及作曲家,以及Melancon結他的官方樂手。Tjoe以他極具創意性的手法,感染力十足的獨奏水平,高超的即興演奏能力和在台上幽默風趣的表現聞名。
2015年到2016年,Tjoe長駐倫敦且專注於拓展自己的音樂版圖。他經常在頂級舞台上表演,如Ronnie Scott's、the Southbank Centre 和Rich Mix。除了積極地參與眾多樂隊活動和音樂計劃,這位年輕的音樂人還成立了自己的樂隊NTBM,與其他的國際音樂人一起演奏原創爵士樂,致力創作原創爵士音樂並在世界各地演奏。
在2017年,Tjoe在全球同步發行了他和所屬樂隊NTBM的第一張專輯《And Orange》。此專輯為十二吋的橙色膠片唱片,還以USB形式出售。專輯發行後NTBM樂隊前往大阪、金澤、香港、廣州、北京和吉隆坡進行巡迴演出。在《And Orange》之前,Tjoe在2014年發行了一張EP《FLOW》,還在2016年初發行了EP《FLOW LONDON》。
Tjoe現居香港。2017年8月中,他帶領的本地樂隊 NTBM 代表香港在 Wow And Flutter 音樂節表演。除了自己的音樂計劃,Tjoe還是本地樂隊Majestic G 和 tfvsjs的結他手,逢星期日都在Peel Fresco的Jam Session演出。
http://tjoemusic.com
https://www.facebook.com/Tjoemusic
https://www.instagram.com/tjoemusic
查詢:
藝穗會票房 (852) 2521 7251
jazz@hkfringeclub.com
「Jazz-Go-Central, Jazz-Go-Fringe」獲香港特別行政區政府「藝能發展資助計劃」的資助
節目內容並不反映香港特別行政區政府的意見 ‧ 藝穗會保留更改節目及表演者之權利
If you work in Central, escape the hustle and bustle, come and immerse yourself in a lunchtime concert of live jazz music. As Miles Davis once said, "Jazz washes away the dust of everyday life."
Presented by the Fringe Club as one of the programmes of "Jazz-Go-Central, Jazz-Go-Fringe" project, Jazz Lunch showcases an impressive jazz combo in the classy setting of the Fringe Dairy. The combo includes professional jazz musicians and young emerging talents who all appreciate the opportunity to gain exposure, showcase their musicianship and improve their skills.
From September to December, jazz guitarist Tjoe Man Cheung will be sharing his jazz music, joined by his musician friends.
Wed 21 November 2018 1PM
Tjoe Man Cheung (guitar)
Eugene Pao (guitar)

Tjoe Man Cheung

Tjoe is a leading Hong Kong-born-and-bred musician. This alumnus of the Musicians Institute is a favoured sideman in the Pop scene, a talented Jazz and Blues guitarist, and a proficient arranger and composer. Currently the official artist of Melancon, Tjoe is recognised by his creative approach, powerful soloing, unique improvisation and his splash of humour on stage.
From 2015 to 2016, Tjoe lived in London to expand his musical territory. He could often be found plying his trade at top venues such as Ronnie Scott's, the Southbank Centre and Rich Mix. In addition to his active involvement in various bands and music projects, the young musician also initiated his own project, NTBM, an original jazz collective led by him and comprising emerging musicians from around the world. The group aspires to compose original jazz tunes and perform globally.
In 2017, Tjoe globally released his first album, and orange, with NTBM. It's available as a 12-inch orange vinyl and a deluxe USB device. The launch was followed by tours to Osaka, Kanazawa, Tokyo, Hong Kong, Guangzhou, Beijing and Kuala Lumpur. Before and orange, Tjoe released an EP titled FLOW in mid-2014, and an EP titled FLOW LONDON in early 2016.
Tjoe is currently based in Hong Kong. In mid-August 2017, NTBM performed at Wow And Flutter, Hong Kong's biggest music festival celebrating local bands. As well as his own project, Tjoe is also the guitarist in local bands Majestic G and tfvsjs, and runs a regular jam session at Peel Fresco every Sunday.

http://tjoemusic.com
https://www.facebook.com/Tjoemusic
https://www.instagram.com/tjoemusic
Enquiries:
Fringe Club (852) 2521 7251
jazz@hkfringeclub.com
"Jazz-Go-Central, Jazz-Go-Fringe" is financially supported by the Arts Capacity Development Funding Scheme of the Government of the Hong Kong Special Administrative Region
The content of these programmes does not reflect the views of the Government of the Hong Kong Special Administrative Region
Hong Kong Fringe Club reserves the right to change the programmes and performers