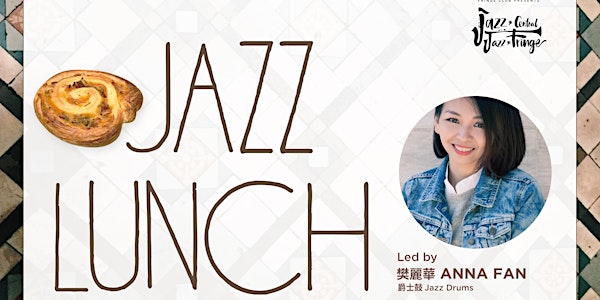 午間爵士音樂會 Jazz Lunch: Anna Fan
When and where
Location
Fringe Dairy Hong Kong Fringe Club 2 Lower Albert Road, Central Hong Kong, Hong Kong Island Hong Kong
Description
午間爵士音樂會 Jazz Lunch: Anna Fan
拉闊 LiveMusic - 爵士Jazz
(三 Wed) 17-4-2019 1:00 PM
奶庫 Fringe Dairy
免費入場,請預先登記 Free admission with registration

*名額有限,先到先得。
*Limited quota. Registration is on a first-come-first-served basis.

* 歡迎觀眾預先訂購藝穗會 Vault Cafe 午餐盒 ($68;於酒吧付款),並於演出期間享用。我們將提供送餐服務。
*You are welcome to pre-order lunchbox ($68; Pay at the cash bar) from Fringe's Vault Cafe and enjoy the meal during the event. Delivery service will be provided.
午餐盒選擇 Lunchbox Choices ($68 each):
1) 肉醬意粉 + 配菜 Spaghetti Bolognese + Side Dish
2) 青咖哩雞飯 + 配菜 Green Chicken Curry with Rice + Side Dish
*飲品可於奶庫內的酒吧選購 Drinks can be ordered at the cash bar at Dairy
備註 Remarks:
現場設有酒吧,售賣簡單食物如三文治、蛋糕及生果。
Cash bar will be opened during event. We will also serve simple food such as sandwiches, cakes and fruits.

觀眾可於演出前30分鐘入場。
Admission will start 30 minutes before show time.

請於入場前出示已印刷的門票/電子門票。
Please present the printed tickets/ e-tickets for admission at the door.

現場設有40個座位,先到先得。餘下為企位。
40 seats plus standing spaces. Seats are first-come-first-served.
-------------------------------------------------------------------------
如你在中環上班,想暫時逃離繁忙的工作,來藝穗會欣賞一沉醉於爵士的世界。正如爵士大師邁爾士戴維斯(Miles Davis) 所說: 「爵士可以沖走每天生活中的塵埃。」
由藝穗會主辦,午間爵士音樂會是「Jazz-Go-Central, Jazz-Go-Fringe」的節目之一,讓資深及年輕的爵士樂手可於充滿爵士情調的奶庫演出。
1月至4月份由爵士鼓手樊麗華主持。
4月17日(三) 1PM
演出:
樊麗華(鼓)
羅尚正(鋼琴)
樊麗華
樊麗華 (Anna) 為香港土生土長的鼓手,畢業於伯克萊音樂學院。2008年,她第二次獲得柏克萊音樂學院頒發的Achievement-Based Scholarship。同年11月,她在德州的奧斯丁參與PASIC的Focus Day Concert,跟隨Berklee West African Drum and Dance Ensemble巡迴演出。這是鼓樂界其中一個享負盛名的活動,為柏克萊的西非音樂發展帶來新衝擊。
回到香港之後,Anna 帶領自己的爵士樂隊 Renfrew Group 於南亞進行巡演,並參與2012年的香港藝術節、香港國際爵士音樂節、北山國際爵士音樂節(中國珠海)和台中國際爵士音樂節。除了舞台演出外,Anna還為眾多不同規模的敲擊樂合奏團編曲及創作敲擊樂曲。
查詢:
藝穗會票房 (852) 2521 7251
jazz@hkfringeclub.com
「Jazz-Go-Central, Jazz-Go-Fringe」獲香港特別行政區政府「藝能發展資助計劃」的資助
節目內容並不反映香港特別行政區政府的意見 ‧ 藝穗會保留更改節目及表演者之權利
If you work in Central, escape the hustle and bustle, come and immerse yourself in a lunchtime concert of live jazz music. As Miles Davis once said, "Jazz washes away the dust of everyday life."
Presented by the Fringe Club as one of the programmes of "Jazz-Go-Central, Jazz-Go-Fringe" project, Jazz Lunch showcases an impressive jazz combo in the classy setting of the Fringe Dairy. The combo includes professional jazz musicians and young emerging talents who all appreciate the opportunity to gain exposure, showcase their musicianship and improve their skills.
From January to April, jazz drummer Anna Fan will be sharing her jazz music, joined by her musician friends.
Wed 17 Apr 2019 1PM
Anna Fan (drums)
Ted Lo (piano)
Anna Fan
Drummer born and raised in Hong Kong, Anna graduated from the Berklee College of Music. She was twice awarded the Berklee Achievements-Based Scholarship in 2008 and was touring and featured in the Focus Day Concert in PASIC with the Berklee West African Drums and Dance Ensemble in Austin Texas. It is one of the more renowned events in the drumming industry. After returning to Hong Kong, Anna led her jazz group Renfrew Group touring in South Asia, including Hong Kong Arts Festival 2012, Hong Kong International Jazz Festival, Beishan International Jazz Festival (Zhuhai, China) and Tai Chung International Jazz Festival. Besides performing, Anna also arranged and composed percussion music for various scale percussion ensembles.
Enquiries:
Fringe Club (852) 2521 7251
jazz@hkfringeclub.com
"Jazz-Go-Central, Jazz-Go-Fringe" is financially supported by the Arts Capacity Development Funding Scheme of the Government of the Hong Kong Special Administrative Region
The content of these programmes does not reflect the views of the Government of the Hong Kong Special Administrative Region
Hong Kong Fringe Club reserves the right to change the programmes and performers