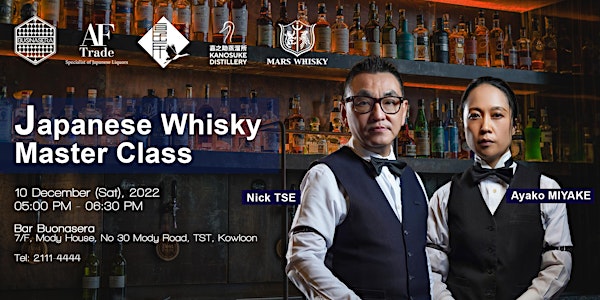 Japanese Whisky Master Class
Japanese Whisky Master Class - by AF Trade
When and where
Location
Bar Buonasera 7/F, Mody House No. 30 Mody Road Tsim Sha Tsui, KOW Hong Kong
About this event
The Ultimate Guide to Understanding the Japanese Whisky
Date: 2022-Dec-10 (SAT)
Time: 5pm - 6:30pm
Price: HKD 580.00
Akkeshi
Akkeshi Distillery, owned by the grocery company, Kenten Ltd. Along with Nikka's Yoichi Distillery, Kenten's Akkeshi will be the second Hokkaido whisky producer located in Akkeshi town. The objective behind Akkeshi Distillery is to provide peaty and smoky whiskies that aren't as prevalent in the Japanese whisky market. Dedicated to producing peaty, heavy-bodied single malts, Akkeshi Distillery is located in an area with similar traits to Islay in Scotland, which is the inspiration behind Akkeshi's spirits. The nearby sea helps give the whiskies Akkeshi matures a more maritime flavor profile that is strong and smoky to the palate; the fog and mist that roll off the sea water also enhance the flavor of the aging drams. Akkeshi is in an area that experiences drastic climate changes, which makes it different from Islay where temperatures fluctuate less dramatically. These temperature ups and downs will contribute to Akkeshi's unique whisky flavor.
Kanosuke
The KANOSUKE DISTILLERY went into operation in 2017. The distillery is located among a number of buildings on a spacious, 9,000-square-meter tract of land along the Fukiagehama Beach on the west coast of Kagoshima Prefecture.
Our two-story, U-shaped distillery houses all our distilling equipment, and features a bar with a beautiful view and a shop offering original KANOSUKE merchandise. Visitors to our distillery can see up-close how our whisky is made.
One of the biggest advantages of our distillery is that we have three pot-stills instead of two, which is usual for craft distilleries of similar sizes all over the world.
Each of the three pot stills have different neck shapes and lyne arm angle. Both by using different pot stills for redistillation and by blending new make spirits from different stills, we can offer whisky of richer flavors and aromas.
Mars Whisky
Located between Japan's soaring Southern Alps and the towering Central Alps, at just over 2,600 feet, Mars Shinshu is Japan's highest whisky distillery. The Hombo family have been distilling for more than a century and added whisky to their repertoire in 1949.
Class will be conduct in English & Cantonese.
REFUND POLICY: There are no refunds for this event. However, if you are unable to attend, tickets are transferrable.
#whiskytasting #whiskymasterclass #whisky_tasting #whisky_masterclass #whiskybar #barbuonasera #giftideas #xmasgift #hongkong #cocktailclass #shakeorstir #cocktailsworkshop #workshop #hkfoodlover #drinkup #drinkoftheday #cocktailoftheday #drinkcraftnotcrap  #drinkme #barbuonaserahk  #cocktailsofinstagram #mixologyart #cocktails #thirsty #drinking  #bartenderslife  #barbuonasera