「恩.賞.探索」實體工作坊 基督教機構和教會的應用 實體工作坊: 1月18日上午9:30-下午5:30, 1月19日上午9:30-下午1:00 總結, 交流及指導: 2月3日上午9:30-下午1:00
About this event
香港正面對前所未有的衝擊,一浪接一浪,經濟緊絀,士氣低落、異象模糊。團隊還能承受嗎?面對一連串緊迫的問題及種種不足,不免沮喪,甚至失去前行的動力。「恩、賞、探索」透過將問題重述,以正向的探詢出發。根據各人的強項和正面經驗,精心設計的流程,啟動有價值的對話,釋放善意和動力,建立團隊,重新上路,重拾使命。
誠邀你跟團隊一起參加!!
所有已繳付之費用不設退款。
如因疫情關係影響實體工作坊舉行,工作坊將轉為網上形式舉行。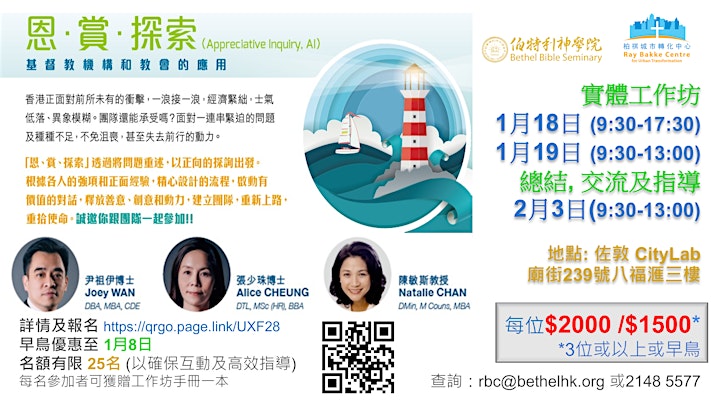 Organiser of 「恩.賞.探索」實體工作坊 Jan 2021
Ray Bakke Centre for Urban Transformation (RBC) was established under Bethel Bible Seminary (BBS) in May 2012 to equip Christian leaders in Urban Ministry with a focus on Hong Kong, China and Asia. The Centre is named after Dr. Ray J Bakke who is also the founder of Bakke Graduate University (BGU) and widely recognized as the pioneer in Urban Ministry. Dr. Ray Bakke is currently a Professor at the Centre.
為推動香港、中國及亞洲的城市轉化、加強基督徒領袖在城市宣教事工上的裝備,柏祺城市轉化中心於2012年5月在伯特利神學院內成立,並以柏祺博士(Ray J Bakke) 命名。柏祺博士是美國柏祺大學研究院的創辦人,擁有豐富的城市宣教經驗,被公認為城市宣教工作的先驅。柏祺博士現為本中心教授。