Description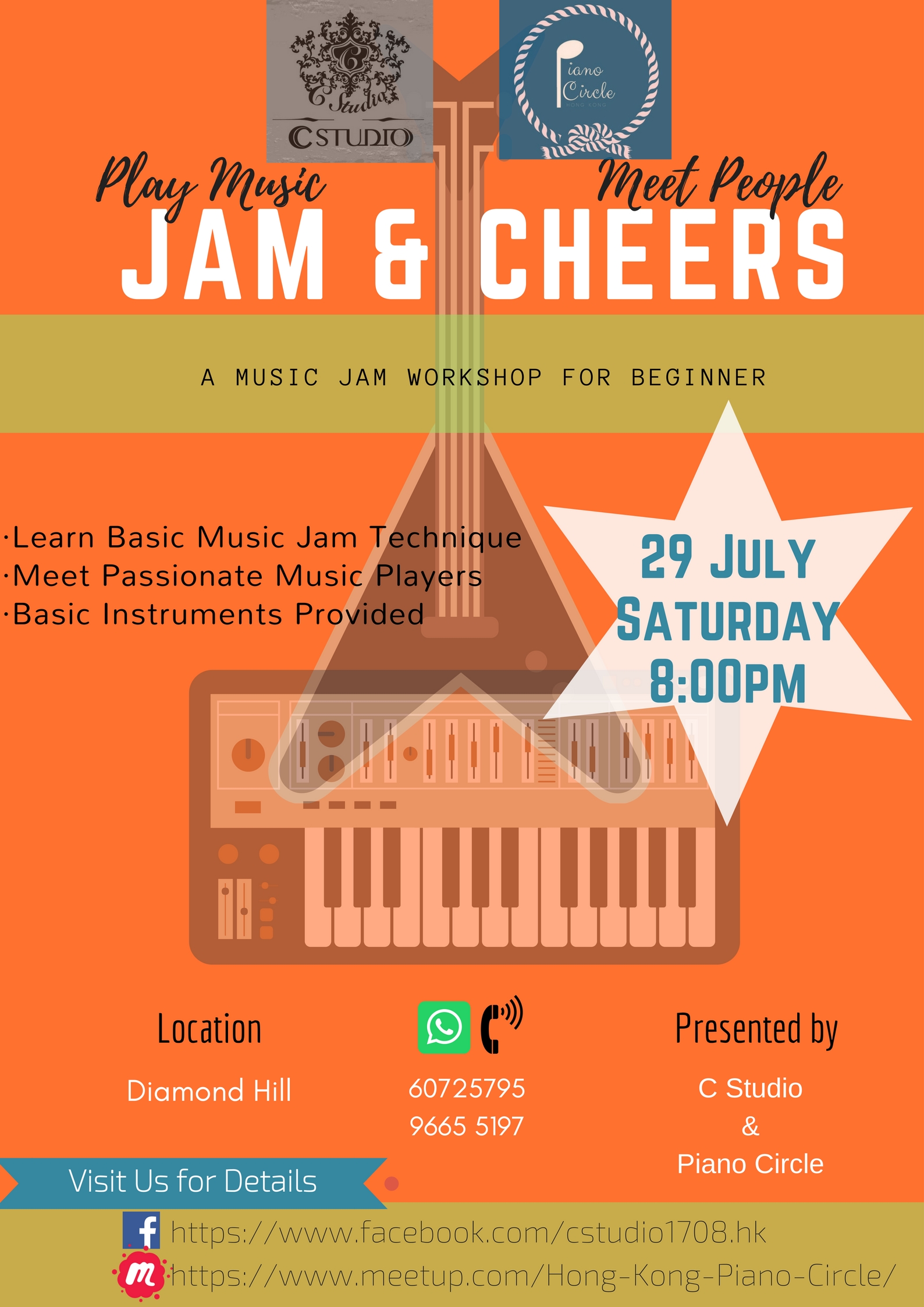 Check the FB page and Meetup.com
Facebook
https://www.facebook.com/events/111150482862851/?acontext=%7B%22action_history%22%3A%22[%7B%5C%22surface%5C%22%3A%5C%22page%5C%22%2C%5C%22mechanism%5C%22%3A%5C%22page_upcoming_events_card%5C%22%2C%5C%22extra_data%5C%22%3A[]%7D]%22%2C%22has_source%22%3Atrue%7D
Meetup.com
https://www.meetup.com/Hong-Kong-Piano-Circle/events/241642162/
Hi Pianists, wanna have a jam session with other players?
Hard to find players to play?
Come to the Jam Event!
It's fun to play music with others!
I am glad we have invited a veteran guitarist and band player Caxton Kong to show us the some ideas of Music Jam. I will also guide and explain the role of keyboard player in the band
Don't worry if you do not have any experience
come and meet some music players!
Check the details!
Date : 29 July Sat
Time : 8:00pm Sat (It takes 2-3 hrs, depends on the number of participants)
No. of
Participants : 15 Max
Fee : $150
Click this link and Join us!!
https://goo.gl/forms/hzzgzIasXwzhOMOp2

- Some basic idea about Music Jam Keyboard,
- Keyboard, bass and drumset are provided.
- Scores are provided
You don't need to be super advanced, it's fine if you are used to music score more than chords
Music sheets will be given (Don't worry, it's easy to read :) )
Feel Free to drop us a line for query
日期:29July17
時間:8pm 開始 (2-3小時,視乎人數而定)
人數:最多15人
收費:$150/位
地點:C Studio
已玩樂器一段時間既你,一定有諗過想識一d新既朋友,夾band jam歌,但因為種種問題偏偏無從入手?咁呢個 " Jam & Cheers" workshop就幫到你啦,現場會有2位導師(剛Sir & Kay)作現場指導,適合初/進階者參加
- 夾band前作簡單理論講解
- 現場有琴,結他,bass, drumset和敲擊樂器提供
- 每次均有指定歌曲及樂譜提供
Caxton Kwong (Guitarist)

Caxton has been working in Hong Kong Music industry for over twenty years. He also works as a singer, song writer and arranger in wide range of Music such as Pop, Rock, Jazz & Blues etc. In year 2012 to 2013, He was invited by an Erhu Expert to Play a Show << Eric Lee Pop Music Eras>> with Hong Kong and Taiwan rock star Paul Wong, Jun Kung, Tanya Chua, Endy Chow in Guangzhou Opera House and Hong Kong Cultural Centre and Wild Day Out Grand Show.
Kay KC ( Pianist)
KC is a Classical Pianist and has been Studying, Teaching and Sharing music over 20 years in the Europe, Australia and Hong Kong. Though she majors in Classical Music, she is enthusiastic to play Jazz and Ambient Music. Recently she got a lot of inspiration from Spirituality and Meditation. She establishes Kate Francis Music and writes different kind of music to express musical ideas from her soul. She also leads guided meditation group with her composition to promote mindfulness wellness and healthy lifestyle.