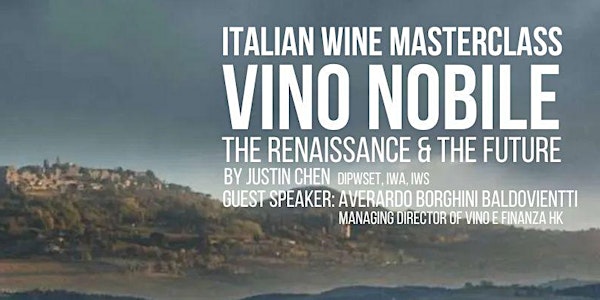 Italian Wine Masterclass – Vino Nobile, the Renaissance and the Future
A highly sought-after and unmissable event for any serious Italian wine lovers and fine wine connoisseurs as well
When and where
Location
MWM Wine School by Debra Meiburg MW 236 Aberdeen Main Road 9th Floor Aberdeen, HKI Hong Kong
About this event
The wines of Montepulciano were already famous during Roman times. Throughout the centuries, they were regarded as a Noble Wine (vino nobile) as they largely enjoyed by noblemen, artists, popes, bishops and other prominent individuals. However, starting from the 19th Century, the glory of Montepulciano began to fade into obscurity and overshadowed by its neighbouring Chinati Classico and Brunello di Montalcino. But things began to change in the 1980's as a new generation of dedicated, quality-oriented producers started to improve vineyard management and cellaring practices with a view to revive the past glory of the Noble Wine.
Over the past 10 years, we have witnessed more efforts than ever before to achieve a great renaissance of this historic appellation. For example, the Alliance Vinum — formed by six renowned Montepulciano houses (La Braccesca, Poliziano, Cantine Dei, Poderi Boscarelli, Salcheto, and Avignonesi) — crafted a manifesto that calls for its members to "endeavour to make wines that are held to the highest standard," and to "educate the public on how to identify Nobile's unique characteristics." Then they backed up those sentiments with wine. From the 2015 harvest, each Alliance member produced a special cuvée to represent the best of Montepulciano. Also, the local Consortium conducted intensive research into the region's geology and geography, revealing 12 specific zones or Unità Geografiche Aggiuntives (UGA), that produce wines with individual, key characteristics. The name "Pieve" references the many pievi, or churches, that existed in these areas over centuries past, and each Pieve wine will feature distinctive characteristics that tie it to the area's rich, local winemaking traditions. Once approved by the government, Vino Nobile di Montepulciano Pieve could be applied retroactively to the 2020 harvest, so the first vintage of these wines could be released onto the market in 2024.
In this two-and-half-hour masterclass, our Italian Wine Educator (VIA and IWS) – Justin Chen will provide an in-depth and most updated review of Vino Nobile di Montepulciano DOCG and guide the participants to taste a stunning portfolio of 20 plus Vino Nobile di Montepulciano wines. Thanks for the great support from the wineries and their respective importers in Hong Kong, we are thrilled to present all the six members of the Alliance Vinum and their most representative wines including, among others, the very limited Alliance Vinum special cuvée bottles! In addition, a comparative tasting of four single vineyard wines directly shipped from Avignonesi will be another eye-opening experience as this has never been done in Hong Kong before!
It is also our great pleasure to have Mr. Averardo Borghini Baldovientti, Managing Director of Vino e Finanza HK, as the guest speaker to offer his first-hand insight into the recent development of this great appellation, where he runs his own winery – Tenute San Fabiano.
This is, without doubt, a highly sought-after and unmissable event for any serious Italian wine lovers and fine wine connoisseurs as well, and we look forward to your participation and quick action!