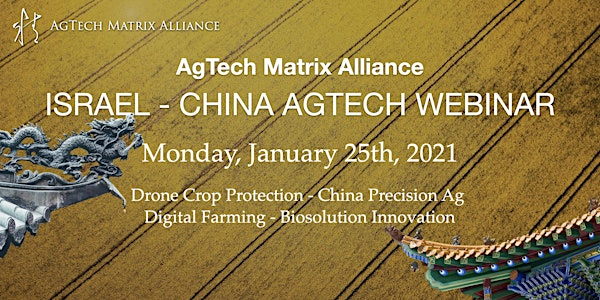 Israel - China AgTech Webinar/ Session One
A unique opportunity to tap into China's agriculture industry and learn about exciting companies and projects seeking Israeli innovation.
About this event
Innovative AgTech Bridge between Israel & China
Israel-China AgTech Webinar is a brand new "Innovative AgTech Bridge" of Israeli and Chinese AgriTech entrepreneurs, scientists, institutions, investors, and universities in one united place.
During this webinar, we will discuss opportunities and needs in precision ag, digital farming, drones, crop protection, bio solution, and additional agri-tech disciplines. China's agritech leaders from reputable bodies such as Syngenta Group China, China Agricultural University, Shandong Dacheng Biochemical and HanTan Tech will present their activities, challenges and insights on Chinese agribusiness. Among the projects that will be presented during the session are:
The Beijing Apple Orchard Project : It is the leading precision ag project with aim to national expansion in China agriculture busienss lead by Chief Scientist of National Pesticide Formulation & Adjuvant Laboratory, Prf. Xuemin Wu.
Henan Hebi Agriculture Project & Precision Ag by Drone: It is the local agriculture project supported by local Hebi Goverment. On the back of filed crops, the commercial project will be a typical model modulized by digital farming and agronomy.
We invite you to join us in this insightful event and to learn about interesting business opportunities in China.
About the organizers:
AgTech Matrix Alliance is a consortium of business, academia, institution, investment and manufacturing. We are aiming to be the influential alliance of China agribusiness as an "AgTech Innovative Bridge" for global AgTech entrepreneurs and stakeholders in one united loop.
Co-Organizer: Mr. Eran Harish, Business Development and Innovation specialist in Israel is the exclusive representative and board advisory of AgTech Matrix Alliance in Israel.