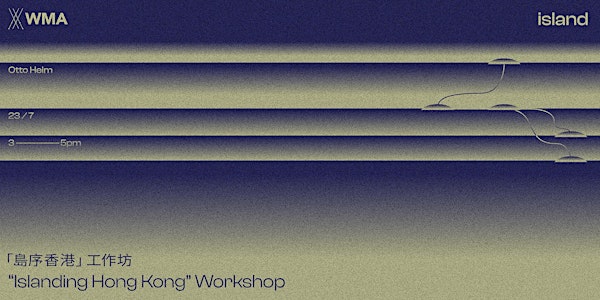 'Islanding Hong Kong' Workshop 「島序香港」工作坊
Explore how an island-based perspective could lead to new, and perhaps unexpected, ways of looking at and thinking about Hong Kong
When and where
Location
HKU (HKU MTR Exit C) Room 745, 7/F, Run Run Shaw Tower, Centennial Campus HKU Hong Kong, HKI Hong Kong
About this event
In this workshop, participants will be invited to explore how an island-based perspective could lead to new, and perhaps unexpected, ways of looking at and thinking about Hong Kong. The workshop will briefly explain the interest of island studies, an interdisciplinary approach to understanding islands "on their own terms", and suggest several ways in which such an approach could be relevant to thinking about the history and future of Hong Kong. The exploration will be supported by illustrations from historical records, development plans, cartographic and census data, and contemporary artwork and photography. Under two broad themes, island logic and island life, we will examine how "islandness" has shaped the history and development of Hong Kong and discuss how an island(er) perspective could inform and contribute to a vision of Hong Kong's social, political, economic, and ecological development in the 21st century.
Participants are encouraged to bring their own illustrations along to the workshop.
*The workshop will be conducted in English.
以島嶼的角度切入思考香港,可否拓闊我們對此地的想像?
是次工作坊將考察「島嶼研究」的起源,以跨學科的方式探討如何以「島嶼本身的條件」來理解島嶼,而這種方式又如何有助我們思索香港的過去與未來。整個探索之旅將由歷史檔案的圖像、規劃圖則、繪製地圖、統計數據,甚至當代藝術及影像出發,以「島嶼邏輯」和「島嶼生活」為題,一同考究「島嶼性」(islandness)如何形塑香港的歷史與發展,以及島嶼視角如何為廿一世紀的香港帶來社會、政治、經濟和生態上的新視野。
歡迎參加者攜帶相關的圖像及影像參與工作坊。
*工作坊會以英語進行。
About the speaker:
Born in Switzerland, Otto Heim has lived in Hong Kong since 2001, teaching English literary studies at the University of Hong Kong. His interest in island studies evolved from his research on indigenous and postcolonial literature and culture in Oceania. He is a member of the editorial board of the journal Shima and co-organized the second Island Cities and Urban Archipelagos conference, held at HKU in March 2016, and the symposium "The Space Between: Creativity, Performance and Impact in Contemporary Island Societies", hosted by the School of English at HKU in December 2018. He lives in Mui Wo.
關於講者:
Otto Heim 出生於瑞士,自2001年起定居香港,於香港大學教授英語文學研究。他對島嶼研究的興趣源於他對大洋洲土著和後殖民文學和文化的研究。他是《島》雜誌的編委,曾於2016年3月在香港大學協辦過第二屆「島嶼城市和都市群島會議」,和「空間之間:近代島嶼社會裡的創意、表現和影響」研討會,於2018年12月中香港大學英語學院主辦。現居於梅窩。