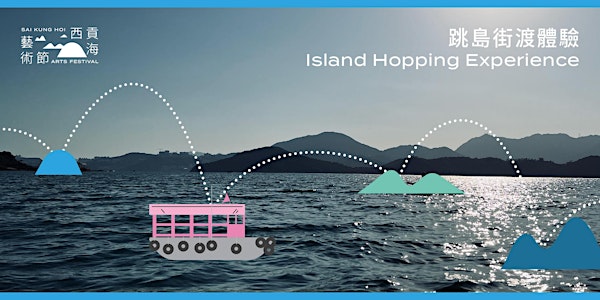 跳島街渡體驗 Island Hopping Kaito Experience (船期 Schedule: 16-30.11)
跳島街渡體驗 (藝術節期間限定) Island Hopping Kaito Experience (Arts Festival Exclusive)
When and where
Location
Sai Kung Public Pier Sai Kung Public Pier Hong Kong, NT Hong Kong
Refund Policy
Contact the organizer to request a refund.
About this event
本屆西貢海藝術節以鹽田梓為中心,並延伸至橋咀洲。為方便訪客暢遊兩個島,藝術節期間特設跳島街渡體驗,讓訪客在本港一嚐跳島遊的滋味。
跳島街渡體驗每張船票包含三程航程:
(1) 去程:由西貢新公眾碼頭往鹽田梓碼頭 / 橋咀碼頭
(2) 跳島:鹽田梓碼頭往橋咀碼頭 / 橋咀碼頭往鹽田梓碼頭
(3) 回程:鹽田梓碼頭 / 橋咀碼頭往西貢新公眾碼頭
購票須知及其他安排,請瀏覽西貢海藝術節網頁:https://skhartsfestival.hk/tc/plan-your-visit/
This year, the Sai Kung Hoi Arts Festival with Yim Tin Tsai as the centre and extended to Sharp Island. To facilitate visitors for travelling between the two islands, there will be island hopping kaito during the Arts Festival period to let visitors taste the special and exclusive island hopping experience in Hong Kong.
Each ticket of "Island Hopping Kaito Experience" includes the following 3 sectors:
(1) Departing: Sai Kung New Public Pier to Yim Tin Tsai Pier / Sharp Island Pier

(2) Island Hopping: Yim Tin Tsai Pier to Sharp Island Pier / Sharp Island Pier to Yim Tin Tsai Pier

(3) Returning: Yim Tin Tsai Pier / Sharp Island Pier to Sai Kung New Public Pier
Ticketing and other arrangement details, please refer to Sai Kung Hoi Arts Festival website: https://skhartsfestival.hk/en/plan-your-visit/