Description
IRIS: On Tour - Community Event Series - MAY 2020

IRIS: Your Escape is going on tour! For the very first time we are launching our Community Event Series - IRIS: On Tour to keep your fitness goals on track! IRIS will be travelling around to your favourite gyms and studios all around Hong Kong starting in March to offer a wide variety of classes ranging from yoga, fitness, mindfulness and workshops etc hosted by some of our star instructors. This series will also serve as a warm-up to our much anticipated IRIS: Yours Escape 10th Edition later in this year, which is set to be our biggest scale event yet! Don't miss out!
Please bring your water bottles and own yoga mat (for yoga classes - unless stated otherwise).
IRIS 2020年全新出發!我們會展開 IRIS 有史以來第一次的 Community Event Series, 帶來一系列不同類型的課堂。IRIS: On Tour 將會成為你2020年身心靈健康路上的好伙伴!由3月起IRIS將會帶你走偏全港的健身及運動熱點,與星級教練聯手為你帶來多元化的課堂及工作坊活動!為今年第十屆的 IRIS:Your Escape 打響頭炮。敬請留意!
*請記得自備水樽、瑜伽墊 (適用於瑜伽課程)。
Check out the schedule here :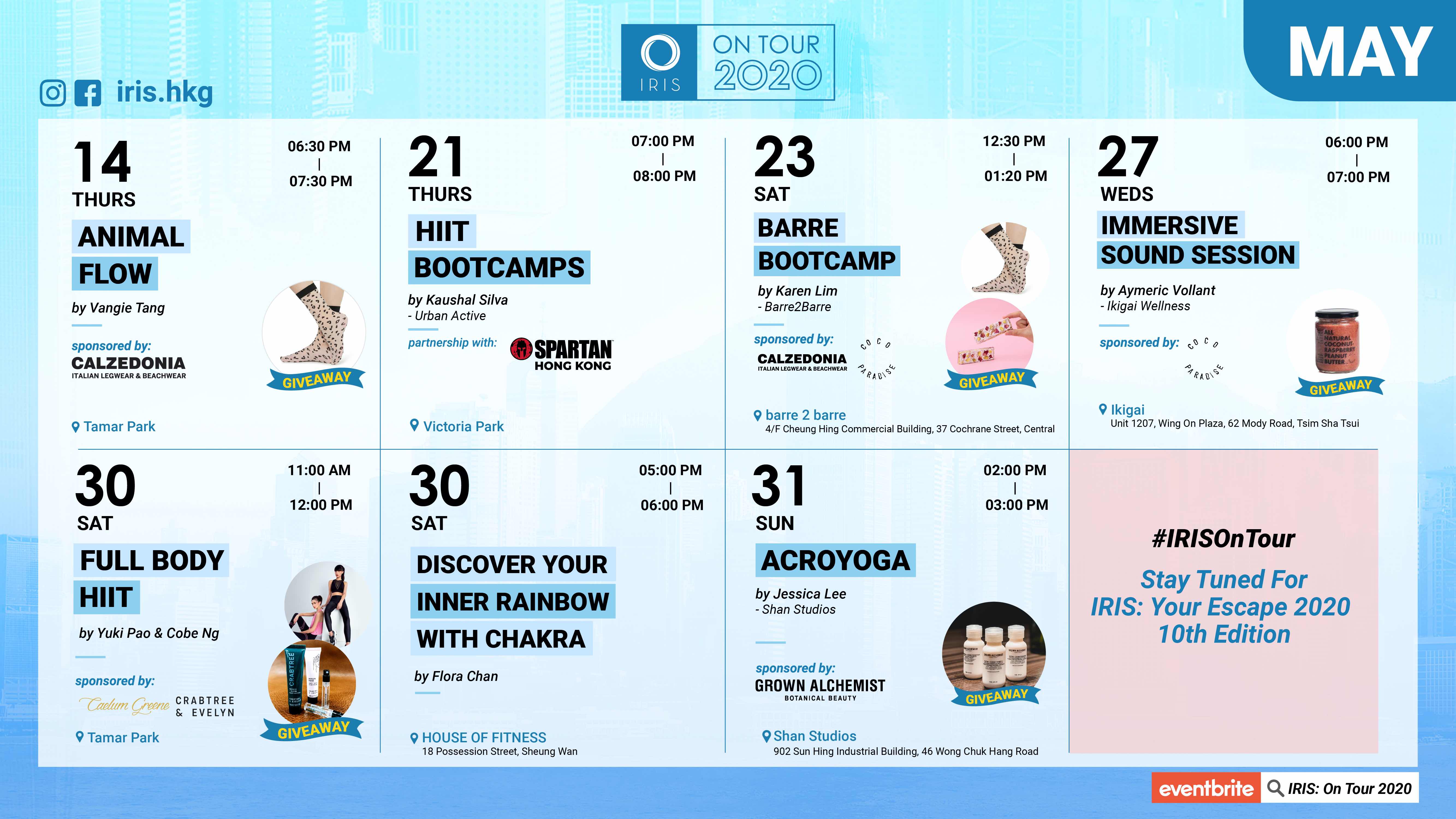 *Registration of each class will end 5pm the day before event
*All classes are limited to 7pax.
Animal Flow Powered by Calzendonia

Animal flow features animal-style movements that encourage core stability and strength, joint strength, and body awareness without any fitness equipment.
The class will be taught in Chinese.
Instructor: Vangie Tang
Date: May 14th, 2020 (Thurs)
Time: 6:30-7:30pm
Location: Tamar Park (Meeting Point: The Tamar Culture Plaza)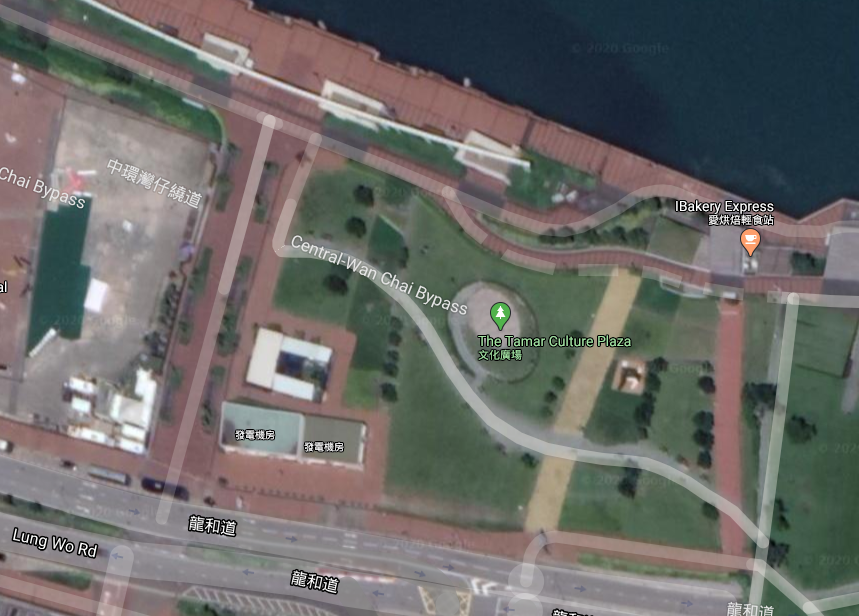 Participants will receive a complimentary pair of socks from Calzedonia SS20 Collection.
HIIT Bootcamps (Urban Active)
An explosive and heart racing HIIT workout, that will test your full body endurance and strength.
Instructor: Kaushal Silva Ranpatabendige
Date: May 21, 2020 (Thurs)

Time: 7:00-8:00pm
Location: Victoria Park, Causeway Bay (Meeting point: Grey Pin - Under the palm trees, next to Statue of Queen Victoria)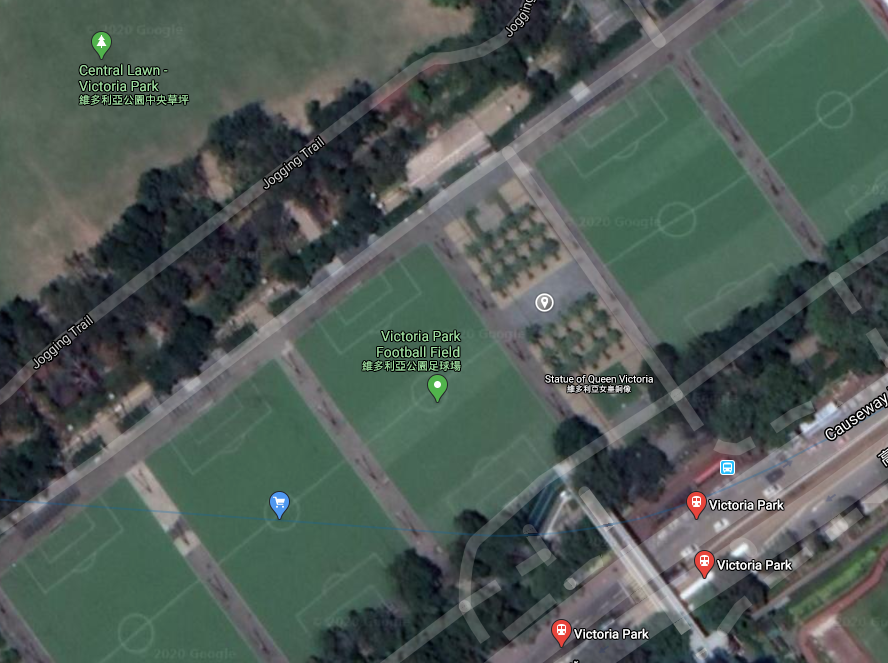 Barre Bootcamp (Barre2Barre) Powered by Calzedonia, Cocoparadise

This mixed levels class uses the foundation of our method BarreAmped combined with cardio intervals (1-2 minutes long). This program relies on high-intensity interval training or HIIT, which has been proven to burn fat faster than sustained endurance training, making it suitable for ALL fitness levels. Barre Bootcamp will shake up your workout! This class is the most fun & effective way to burn fat, lose weight and change your body.
Instructor: Karen Lim
Date: May 23, 2020 (Sat)
Time: 12:30-1:20pm
Location: Barre2Barre, 4/F Cheung Hing Commercial Bldg, 37 Cochrane St, Central
Participants will receive:

- A complimentary pair of socks from Calzedonia SS20 Collection.
- Complimentary Coco-rose pistachio bites from Cocoparadise.
Immersive Sound Session (Ikigai) Powered by Cocoparadise

Through a combination of sounds and music, this mindfulness class will bring you on a journey that will trigger your imagination. Using binaural recordings and headphones, you will be projected to different places and environments, embodying a variety of states based on each scenario.
In this interactive session, participants will help curate the experience by choosing the tracks, which will then be mixed together - making each class unique!
Put your headphones on, close your eyes and let yourself be transported.
Read Our Blog Article: "What Is An Immersive Sounds Session?" https://www.ikigai.hk/blog-immersive-sounds-session
Instructor: Aymeric Vollant
Date: May 27th, 2020 (Weds)
Time: 6:00-7:00pm
Location: Ikigai Wellness, Unit 1207, Wing On Plaza, 62 Mody Rd, Tsim Sha Tsui
Participants will receive a complimentary Coco-raspberry peanut butter jar from Cocoparadise.

Full Body HIIT Powered by Caelum Greene, Crabtree & Evelyn
High intensity interval training focusing on body weight compound movements to enhance your cardiovascular system and to promote fat burn.
Instructor: Yuki Pao & Cobe Ng
Date: May 30th, 2020 (Sat)
Time: 11:00am-12:00pm
Location: Tamar Park (Meeting Point: The Tamar Culture Plaza)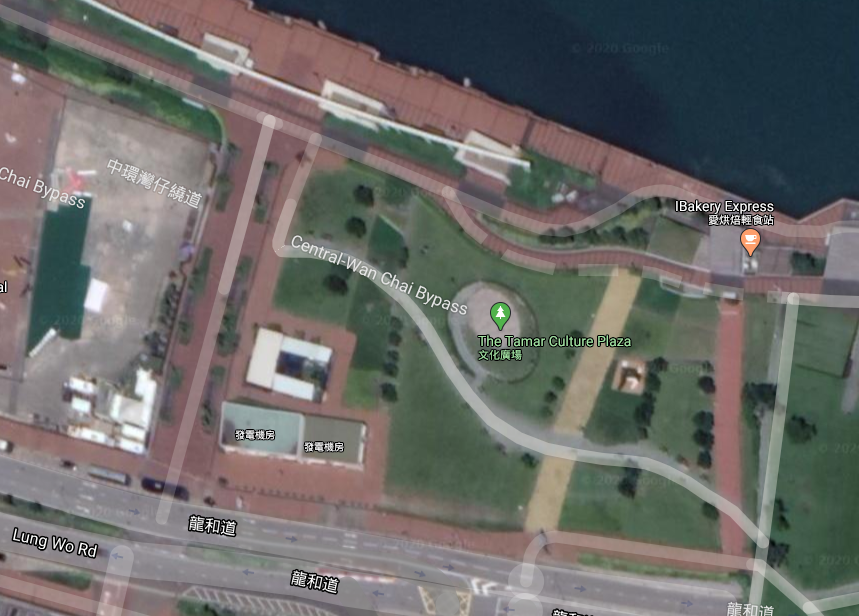 Participants will receive:
- a gift voucher of HK$200 off with any purchase of HK$1000 and over from Caelum Greene

- a sample set of Crabtree Smooth + Refine Body Lotion, Crabtree Raw Instinct Scent, Evelyn Rose Soft Touch Face Foam, Evelyn Rose Femme de Force Scent from Crabtree and Evelyn
Discover Your Inner Rainbow With Chakra
Chakras are an inward map that helps us understand ourselves better and can direct us toward wellness, greater awareness and living a more joyful and abundant life. Energy Reader/Healer, Flora, Founder of Flo Jewellery, will take the participants to the world of rainbow-colour Chakras to learn more about this ancient wisdom of energy system and bring it to life in an engaging and practical way.
In this workshop, Flora will walk you through this journey to explore and experience how each chakra affects us and how the chakras are interconnected. Most importantly, she will share what we can do to help affect our Chakras positively and bring balance and inner peace to our life. The workshop is open to people with all levels of chakras experiences.
You will explore: Each of the seven major Chakras and what they represent for you in your life and relationships The emotional and physical meaning behind each chakra Practical tips including food, essential oil, crystals, yoga poses and affirmations to balance each chakra Real-life stories of how chakras are affecting each other and our daily life Real-time open chakra reading (if you do not mind sharing with other participants)
Instructor: Flora Chan
Date: May 30, 2020 (Sat)
Time: 5:00-6:00pm
Location: House of Fitness, 18 Possession St, Sheung Wan

Acroyoga (Shan Studios) Powered by Grown Alchemist

Acroyoga is a fun, exciting practice that combines the strength and flexibility of yoga with the grace of partner acrobatics, allowing you to lift your friends up while building trust and community through child-like play. Expect to laugh, meet new people, and surprise yourself with what you can do.

 Beginner-friendly. No previous experience required.
*Participants will work in one group of 3 and one group of 4.
Instructor: Jessica Lee
Date: May 31th, 2020 (Sun)
Time: 2:00-3:00pm
Location: Shan Studios, Sun Hing Industrial Building, Unit 2, 9/F, 46 Wong Chuk Hang Rd
Participants will receive a complimentary Anti-Fizz shampoo & conditioner deluxe (50ml) from Grown Alchemist.
---
Terms and Conditions:
Please arrive 10 minutes before the class and present the confirmation email for registration.

All fees are non-refundable and non-transferable once the class ticket has been confirmed.

In case of any dispute, the decision of Hybrid Group shall be final.


條款及細則︰
參加者請於課堂前10分鐘到達,並出示確認電子郵件進行登記。

報名確認後,所有費用均不可退款及不可轉讓。

如有任何爭議,Hybrid Group 保留最終決定權。
Organiser of IRIS: On Tour - Community Event Series - MAY 2020
A boutique Event, Marketing and Creative Solutions company that provides a holistic solution to all our clients. 
Hybrid is a pioneer in collaboration and connectivity, having produced and managed industry-leading events throughout Hong Kong. Our diverse team of talented individuals offers personal expertise and support tailored to meet every requirement. 
At Hybrid, we create consistent first-class experiences while preserving the unique identities of each brand, and more importantly forge long lasting relationships.