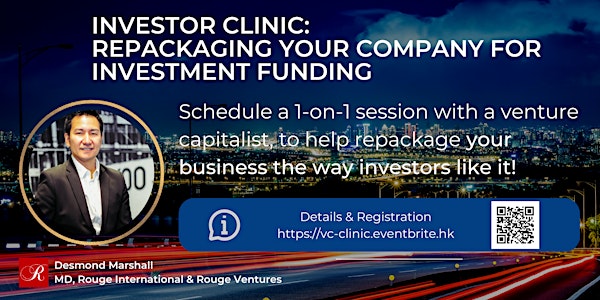 Investor Clinic: Repackaging Your Company for Investment Funding
Meet the venture capitalist for a 1on1 consultation, helping you repackage your business the way investors like it for better funding.
Refund Policy
Contact the organizer to request a refund.
About this event
If you are finding it difficult to acquire venture capital funding, then maybe you have not setup your company to how investors like it.
Schedule a 1on1 with the Venture Capitalist Clinic
Meet the VC: Gives you an insider track on what real investors think, and how you should repackage your business in the most cost effective and efficient way to maximize your chances of funding.
Think like an investor, to better know how to attract their funding!
Register for a clinic consultation NOW!
Each online clinic consultation is reserved for ONE company/business, dedicating to specific areas you needed to answer.

Review our credentials:
Check out his credentials below and bio is at the bottom.

Details on the Clinic
Suited for:
- Any company that needs investment funding: from startups to listco companies
- Venture Capital firms with a portfolio of invested companies, on how to get more external funding
Clinic format:
Online zoom (zoom details will be provided)
One hour per clinic session
Only one company per clinic session, to ensure confidentiality
English by default; you may request Putonghua/Cantonese if required.
Company can send up to 5 people max to attend the session
About Clinic's date & time:
All the available dates and times are listed here in Eventbrite and will be updated accordingly; it is best to adhere to this schedule
The company may request a mutually acceptable NEW date and time beyond the listed ones, should the original slot is not suitable
Process for the consultation:
Register in Eventbrite here ONLY. Make the proverbial payment (to avoid usage abuse)
A confirmation email about details will be sent out after
Any questions or special arrangement request? Please contact info@rougevc.com
Bio on the Venture Capitalist: Desmond Marshall
Desmond Marshall is the MD of Rouge International & Rouge Ventures (rougevc.com), a professional venture capital & advisory firm, focusing on business portfolio turnaround advisory for venture capital and unique due diligence services for investors. The firm is focused on sustainability & innovations.
Over his 27+ years in the industry, he has helped numerous local and global businesses, from startups to listcos, on strategic innovation, restructuring, and operational enhancements. With his extensive experience and global connections with private and public organizations, he has founded several unique and successful operations in relation to venture capital and investor services, including Rouge Ventures and FUTURE engine (sustainthefuture.net).
Mr Marshall has worked with numerous top global companies from Asia, China, US, Europe, Japan, and even Israel, including: HSBC, LVMH, UniCredit, Ralph Lauren, JP Morgan, Rolls Royce, Maserati, IBM, Microsoft, Wunderman, Shu Uemura, Leica, Monaco Govt, China Govt and many Fortune 500 companies.
He is also * Global Top 10 Blockchain Expert in Asia (Nominated by Cryptocoin News)* Popular media Spokesperson on Innovation and investments in Asia and China ​* Linkedin Influencer
​Mr Marshall is a regular guest for international interviews, investment related events, and is active in related communities for startups and sustainable development areas.
​For more info: