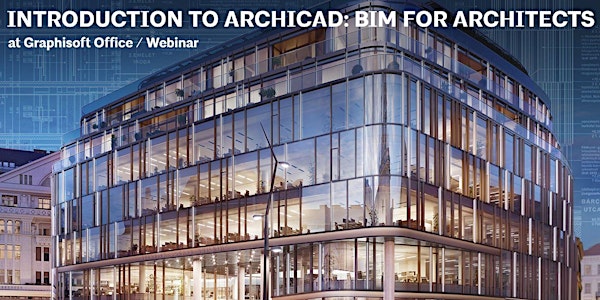 INTRODUCTION TO ARCHICAD: BIM FOR ARCHITECTS
Tthis workshop explores the concept of BIM (Building Information Modelling) and its role in contemporary construction management
When and where
Location
Graphisoft Office Unit A1, 16/F, TML Tower, 3 Hoi Shing Road Tsuen Wan, NT Hong Kong
About this event
Dear Members,
BIM (Building Information Modeling) is an innovative technology that manages and transfers building data digitally. BIM is widely used in architecture, engineering, construction and project management because of its flexibility, speed and advantages in handling repetitive tasks.
Developed by Graphisoft, their Archicad is one of the most popular architectural BIM softwares and we are delighted to host a workshop to introduce Archicad to students and professionals on October 15, 10:00 – 11:30 AM.
This workshop will consist of an overview of BIM workflows, the advantages of Archicad, and hands-on exercises using this software - as well as an interactive Q&A session. Participants will learn how BIM can help users achieve smarter and more efficient working routines both in educational and professional environments, and may attend the workshop either in person or online.
Details
Date Saturday, October 15, 2022
Time 10:00 - 11:30 AM
Location In-person: Unit A1, 16/F, TML Tower, 3 Hoi Shing Road, Tsuen Wan.
CES 1.5 LUs
Fee Gratis
Quota 15 (In-person)
Agenda
• About BIM - Introduction and Misconceptions (10 minutes)
• Why Archicad? - BIM For Architects (10 minutes)
• Hands On Exercises using Archicad (45 minutes)
• Conclusions (15 minutes )
• Q&A (10 minutes)
Notes
• Participants are required to bring their own laptops with Archicad student/evaluation version installed before attending the workshop. Student/ Evaluation versions are available at the official website and are subject to 1 year / 30 days of free trial periods respectively. Further instructions will be issued to signed up participants after registration.
• How to get to Graphisoft office? See Google Map
MTR: Get off at Tsuen Wan West station at Exit A1 and 9 minutes walk to TML Tower.
Bus: 48P, E32A
• All participants are required to scan the LeaveHomeSafe app upon arrival. Vaccine pass is required, please refer to the Vaccine Pass Guideline.
• For participants holding an Exemption Certificate issued by a certified doctor, the QR code of your Exemption Certificate must be presented for scanning upon arrival.
• Persons with a Red Code or Amber Code are not allowed to enter the premises.
• Please arrive at the designated location 10 minutes before the program begins (by 9:50 AM).