Intro to Cryptos and E-commerce payments
About this event
The rise of digital wallets with blockchain technology is making way for more convenient payment systems, disrupting the way we conduct e-commerce business.
In partnership with Genesis Block, we will walk you through how cryptocurrencies influences e-commerce, the advantages of implementation and how to get started.
Join us for a fulfilling event as awareness and understanding today could help shape your business in the future.
活動詳情 Details :
日期 Date July 27 2021 (Tuesday)
時間 Time 19:00 - 20:30
地點 Location Entrance on, 1/F, 269 - 273 Hennessy Road, Stewart Rd, Wan Chai (https://goo.gl/maps/3sr9uqx3Kw3HuChGA)
語言 Language 英文 English
活動流程 Rundown :
19:00 – 19:15 活動開始 | Opening
19:15 – 20:45 嘉賓演講、現場討論及問答環節 | Speaker sharing, Panel Discussion & Q&A section
20:15 - 20:30 活動結束 | Closing
演講嘉賓 Keynote Speakers:
John Keh - Chief Marketing Officer @Genesis Block & GBV
Jinwoo Yoo - Customer Service Manager @Genesis Block
Maximilian Von Cannon - Community Manager @Genesis Block
This material/event is funded by the Professional Services Advancement Support Scheme of the Government of the Hong Kong Special Administrative Region.
Any opinions, findings, conclusions or recommendations expressed in this material/any event organised under this project do not reflect the views of the Government of the Hong Kong Special Administrative Region or the Vetting Committee of the Professional Services Advancement Support Scheme.
*參加是次講座的參加者將自動免費成為 HKEBA 會員並收到本會經電郵發出的會訊*Participants that join this seminar will be automatically members of HKEBA and may receive email newsletter.
贊助機構:
Hong Kong Wireless Technology Industry Association
Hong Kong Internet & eCommerce Association
Hong Kong Retail Technology Industry Association
Hong Kong Exporters' Association
Hong Kong Retail Management Association
Innovative Entrepreneur Assoication
Hong Kong Information Technology Joint Council
Hong Kong Information Technology Federation
Communications Association of Hong Kong
Hong Kong Association of Interactive Marketing Limited
The Association of Cloud and Mobile Computing Professionals Limited
Information Systems Audit and Control Association
Hong Kong Computer Society
Hong Kong Science and Technology Parks Corporation
SME Global Alliance
Hong Kong Software Industry Association Limited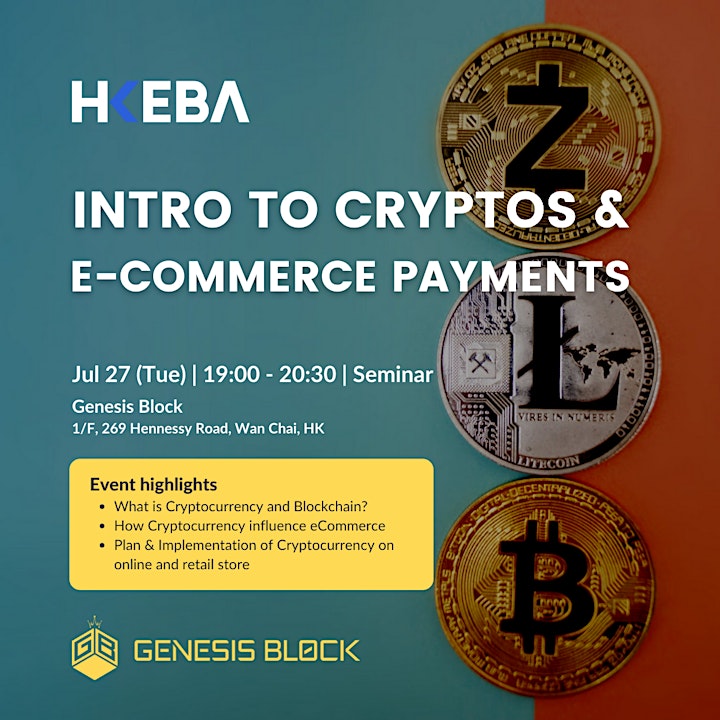 Organiser of Intro to Cryptos and E-commerce payments
Hong Kong E-Commerce Business Association (HKEBA) is a non-profit organization aiming to build a world-class e-commerce industry in Hong Kong by educating and promoting the latest digital transformative technologies, online and offline omni-channel commerce services, and software technologies to the Information Technology sector and corporations.